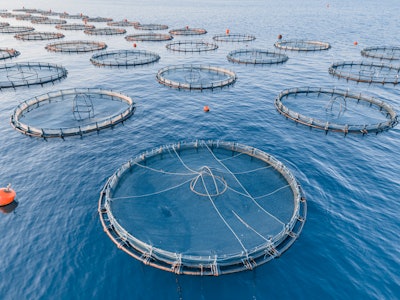 Leonid_S | BigStock.com
A bipartisan bill that would provide the regulatory framework needed to increase American offshore aquaculture production has been reintroduced in the U.S. Senate.
Senators Roger Wicker (R-Mississippi) and Brian Schatz (D-Hawaii) sponsored the Advancing the Quality and Understanding of American Aquaculture (AQUAA) Act, which would increase production of sustainable seafood offshore in U.S. federal waters and create economic opportunities for American communities coast to coast. Introduction of the AQUAA Act comes after the White House's Ocean Climate Action Plan issued in March that calls for the expansion of sustainable U.S. aquaculture production.
"The aquaculture industry is growing rapidly, but the lack of a national permitting system for federal waters has held back development and prevented American producers from growing more seafood at home," Wicker said. "This legislation would establish comprehensive standards for offshore aquaculture, helping U.S. producers meet the growing demand for fresh, locally sourced seafood."
Federal legislation on offshore aquaculture is needed to establish a clear permitting process for U.S. marine aquaculture. Without federal action, the growth of an American offshore aquaculture industry will continue to be hindered due to lack of regulatory certainty.
The AQUAA Act would establish national standards for offshore aquaculture and clarify a regulatory system for the farming of fish in the U.S. exclusive economic zone (EEZ). The bill would also establish a research and technology grant program to fund innovative research and extension services focused on improving and advancing sustainable domestic aquaculture.
"Hawaii's diverse aquaculture produced over $80 million of finfish, shellfish and algae in 2019," Schatz said. "At the same time, the movement to restore native Hawaiian fishponds such as those at He'eia and Maunalua continues to develop momentum. This bipartisan bill would increase federal support for both."
Among other provisions, the AQUAA Act would:
Uphold existing environmental standards while providing regulatory certainty and clarity to the industry.
Include a set of national standards to guide development of offshore aquaculture and aquaculture management plans that implement those standards on a regional scale.
Include a national plan to identify and establish areas particularly well suited for aquaculture.
Establish an Office of Marine Aquaculture within NOAA, which would be charged with coordinating the federal permitting process.
Establish a permit through NOAA that would give an individual the security of tenure necessary to secure financing for an aquaculture operation.
Fund research and extension services to support innovation and the growth of aquaculture in the United States.
The introduction of companion legislation in the U.S. House is expected soon.