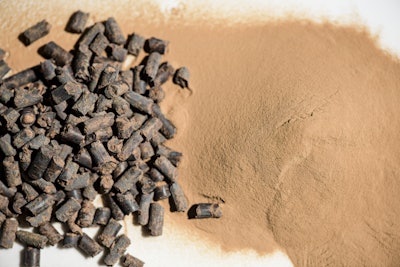 Aquaculture growth is bringing industry together to find ways to reduce reliance on fishmeal and soybean meal, paving the way for plant-based and single-cell alternatives.
The aquaculture industry is rapidly expanding to fulfill the growing global population's appetite for affordable seafood, particularly in Asia. It accounts for 73% of the world's seafood sales and Asia consumes more than two-thirds of the available seafood supply. In the Asia-Pacific region, seafood sales increased by 12.25% from 2018 to 2021, with nothing foreseeably slowing the trend over the next decades.
But the rising demand for aquafeed raises questions about the sustainability and affordability of wild-sourced fishmeal — a staple ingredient in aquafeed. Nutritionally, fishmeal is perfectly suited for growing fish and increasing their immunities, but the projected pace of aquaculture growth will eventually outstrip the number of forage fish that can be harvested from the ocean.
Dr. Kevin Fitzsimmons, a professor at the University of Arizona and director of international initiatives, College of Agriculture and Life Sciences, said our reliance on wild-caught fish for fishmeal and for human consumption bears negative consequences for wildlife, even beyond the ocean.
"We need to eliminate the overharvest of many of the forage fish populations around the world," Fitzsimmons said. "The populations of large predatory fishes, sea birds and mammals have been crashing worldwide due to overfishing and reductions in their primary food supplies of smaller fishes. In addition, many of these sardines, herrings and anchovies are popular for direct human consumption. Supplies of alternatives to fishmeal would lower the cost."
Fishmeal alternatives: Price vs. nutritional value
The leading fishmeal alternatives used today include commodities such as soybean and other oilseed meals, vegetable oils and animal processing byproducts. Some possess valuable nutrient arrays that match fishmeal, but some do not.
"Nothing really stacks up equivalently to fishmeals," said Scott Snyder, Ph.D., nutritional technology manager for Zeigler Bros., a provider of high-performance aquaculture products. "Even with all the knowledge we've garnered through the prior 20-plus years of fishmeal replacement research, fishmeal is still the only known source for what are termed unidentified growth factors."
That doesn't mean fishmeal is impossible to replace — but it can be costly. The international aquaculture community has been researching replacements for decades and continues to make progress toward finding affordable alternative ingredients or combinations of ingredients to match the nutritional value of fishmeal.
Zeigler Bros., for example, has developed manufactured or compounded products that can successfully replace the use of live feeds and fresh fishery products in shrimp hatcheries, finfish hatcheries and broodstock maturation and feeding for shrimp and finfish.
"In terms of fish oil, we do have the ability to completely replace this ingredient with algal oils derived from the mass production of marine microalgae," Snyder said. "This practice is currently limited to markets that are willing to pay the additional cost of substituting algal oil for fish oil. Fish oil is currently significantly lower in cost on a nutrient content basis than alga oils that are nutritionally attractive to aquafeed and aquaculture producers."
High fishmeal costs reducing usage in aquafeed
While it's unlikely any single ingredient can completely replace fishmeal, most aquaculture farms have successfully reduced the percentage of fishmeal in their aquafeeds without entirely eliminating it. This has allowed aquaculture to grow without depleting fishmeal supplies, but it has affected the price.
"Industries have actively improved processing streams to better match the nutrient requirements of various farmed aquatic animals, and these have supported the huge growth in aquaculture over the last 20 years, while supplies of fishmeal and fish oils have stagnated and prices have skyrocketed," Fitzsimmons said.
He recommends the use of sophisticated feed formulation programs to mix and match ingredient profiles and prices to arrive on a formula that best meets the nutritional needs of the aquatic animals and the cost parameters.
These formulations may include combinations of fishmeal and traditional fishmeal replacements, but Fitzsimmons predicts they will include less of these ingredients as they become more cost prohibitive, and include more emerging alternatives like algae oils and meals, insect meals and single-cell proteins.
"Soybean is already a key ingredient in most aquafeed diets, with fishmeal being a secondary ingredient," Fitzsimmons said. "But as fishmeal and soybean meals continue to rise in price, their percentages in aquafeeds will decrease and be replaced by novel ingredients. Honestly, I expect that fishmeal will be priced out almost completely and that a mix of algae, insect and single-cell proteins will substitute."
"Insect meals originally had some nutritional hurdles to overcome as fishmeal replacements. However, recent work, including fishery byproducts into the finishing diets of the black soldier flies and mealworms show that the nutritional profile can be improved greatly in the finished feed. Likewise, single-cell proteins are now being adjusted with basic feedstocks to better match the nutritional needs of the aquatic animals," Fitzsimmons said.
Snyder called single-cell proteins and insect-based ingredients "on the cusp of becoming mainstream," but these options are attractive due more to overall nutrient content and possible health-promoting compound levels than due to affordability.
If a positive cost-value proposition can be shown for these protein alternatives, it could be game changing, according to Snyder, who attributes on-farm profitability as the key driver of growth in the fishmeal alternatives market.
"There is a large volume of popular press indicating the desire for sustainably produced seafood will drive the adoption of these ingredients," Snyder said. "This is not truly the driving factor as I have witnessed. The driving factor is the need to develop more cost-effective feeds allowing increased profitability at the farm level."
The answer to expanding the number of affordable alternative protein options available may be broader industry cooperation to gain economies of scale and widespread customer acceptance.
"Aquafeed users' acceptance only happens through field trial success," Snyder said. "Economy of scale happens through the adoption of an ingredient by multiple markets. Meaning that we must increase partnerships and collaborative farm projects that somehow receive some form of subsidy to the user, and we must increase crosstalk with industries other than aqua to develop the volume needed for economies of scale."
Organized efforts encourage fishmeal alternative discoveries
Fitzsimmons is a co-founder of the organization Future of Fish Feed/Feed Innovation Network (F3/FIN). The organization's goal is to encourage sustainable innovations in aquafeeds by sharing experimental protocols, open feed formulas, resources for purchasing and testing ingredients, and access to experts in fish nutrition.
F3/FIN has adopted a three-pronged approach:
Conduct several contests with cash prizes that incentivize contestants to sell and use novel ingredients.
Host two in-person conferences and a series of webinars to bring together novel ingredient companies with aquafeed companies, large aquafarms, the investment community and the seafood press to promote the use of alternative ingredients in aquafeeds.
Develop a series of websites with nutritional data on novel ingredients and companies, a series of open formulas for fish-free feeds that have been demonstrated to perform as well or better that fishmeal and/or fish oil containing diets for a large variety of farmed fish and shrimp.
As a co-founder of the group, Fitzsimmons is also one of its of its contest judges. Its most recent, the F3 Challenge – Carnivore Edition, aims to create fish-free feeds for the biggest consumers of forage fish in three categories: salmonids, shrimp or other carnivorous species.
"My primary interest is to make aquaculture a more sustainable industry while conserving forage fish populations for marine ecosystems," Fitzsimmons said. "Overall, we are convinced that these various novel ingredients will play a key role in eventually lowering the costs of farmed seafoods while at the same time reducing environmental impacts related to feeding these animals."
Fitzsimmons said virtually all novel ingredients claim to have minimal carbon footprints and offer good documentation, however, they each approach it from a different angle.
"Algae convert CO2 to biomass, insects convert waste materials to biomass, keeping lots of carbon out of landfills, while some single-cell proteins fix CO2 or methane into biomass," Fitzsimmons said.
Meanwhile, environmental initiatives spanning the full spectrum of businesses like Zeigler Bros. also contribute to increasing the sustainability of the aquaculture industry.
"That spectrum [of our sustainability initiatives] ranges from ingredient procurement through the manufacturing process and, ultimately, to the final product used by our customers," Snyder said.
Life-cycle analyses using common metrics are needed to support the industry coming to common metrics and conclusions that will support the global expansion of sustainable fishmeal alternatives for aquafeed.
---
Up-close with a novel fishmeal alternative
A novel fishmeal replacement produced through fermentation without using any arable land, marine resources or animals, and with low water usage is available in Europe, with pending approvals for use as a feed ingredient in the United States.
Performance of Uniprotein in aquaculture trials have shown competitive digestibility and high feed conversion rate. David Henstrom, CEO of Unibio, said the protein and amino acids found in the single-cell protein align in quantity and quality with fishmeal and express similar functional benefits as compared with other highly concentrated protein raw materials. It can also be made into powder or pellets, Henstrom said.
Headquartered in Roskilde, Denmark, Unibio provides a technology called U-loop, which produces Uniprotein by turning gas into food through fermentation. The resulting protein alternative contains more than 70% protein in dry matter, has uniform product quality, long shelf life, and is pesticide- , herbicide- , fungicide- and antibiotic-free.
Supply is limited as Unibio is scaling out the technology with new facility builds.
"Our first licensee built a plant in Russia and we have chosen since Russia's invasion of Ukraine to refrain from buying and selling product from that facility," Henstrom said.
It's awaiting Food and Drug Administration (FDA) approval in the United States, but Henstrom said Uniprotein has approvals in the EU across all feed uses and multiple species.
"By producing protein through fermentation, the burden on the ecosystem is reduced significantly and it is possible to feed the world's growing population and stop hunger," Henstrom said.
---
Feed Mill of the Future digital supplement

WATT's feed brands Feed Strategy and Feed & Grain magazines join forces to launch the monthly Feed Mill of the Future digital supplement. Each edition aims to provide animal feed industry stakeholders with forward-looking content, market insights and a spotlight on the leading-edge technologies shaping the global feed industry of tomorrow.

Subscribe today! https://bit.ly/3dWzow7