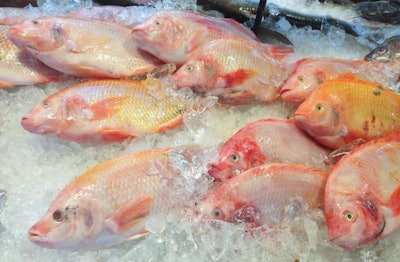 Nonprofit research organization WorldFish will expand research on its genetically improved farmed tilapia (GIFT) strain to increase productivity and meet the growing global demand for fish.
WorldFish says the research will create more resilient fish that are more resistant to disease and have better feed efficiency. Experts from around the world met recently at a workshop at the Roslin Institute in Edinburgh to develop a roadmap for the use of advanced techniques such as genomic selction.
The fast-growing GIFT strain has been diseminated to at least 16 countries, mostly in the developing world, according to WorldFish. Expansion of GIFT research is part of the CGIAR Research Program on fish.
"Incorporating new traits in the breeding program for GIFT will help fish farmers prepare for future challenges such as climate change and increasing evidence of disease risks," said John Benzie, program leader, sustainable aquaculture, WorldFish, in a press release. "This will particularly benefit farmers in Africa and Asia, where tilapia is critical for food security yet farmers often have limited access to improved fish breeds suited to local conditions."
"Aquaculture production needs to increase by 40 percent by 2030 to meet global demands for fish," said Ross Houston, group leader, The Roslin Institute. "Nile tilapia (Oreochromis niloticus) is arguably the world's most important food fish, and plays a key role in tackling rural poverty in developing countries. The innovations in genetic improvement mapped out in this workshop are an important step toward achieving these ambitious goals."
Strategy on sustainable production
In late 2016, WorldFish introduced a six-year strategy to boost sustainable aquaculture production and small-scale fisheries in developing countries that it says will help many of the world's poorest fishers and fish farmers exit poverty.
The strategy for 2017-22 is aligned with the UN Sustainable Development Goals (SDGs), with emphasis on the goals of no poverty and zero hunger. Several other SDGs are addressed:
Good health and well-being
Gender equality
Decent work and economic growth
Reduced inequalities
Responsible consumption and production
Climate action
Life below water
Life on land
Partnership for the goals
By 2022, WorldFish looks to reach several targets, which were calculated using data from outcomes of prior aquaculture and small-scale fisheries research. Those targets are:
5 million producer households adopting improved breeds, feeds, fish health and best management practices
3.5 million people assisted to exit poverty through gender-inclusive livelihood improvements
2.4 million fewer women, men and children suffering from deficiencies in essential micronutrients
3.3 million hectares (8.2 million acres) of ecosystems restored through productive and equitable management
4.7 million more women of reproductive age consuming an adequate number of food groups
4.8 million tons of fish farmed annually with improved climate resilience and reduced environmental impact
WorldFish's six-year strategy focuses on eight countries: Bangladesh, Cambodia, Egypt, Myanmar, Nigeria, Solomon Islands, Tanzania and Zambia.