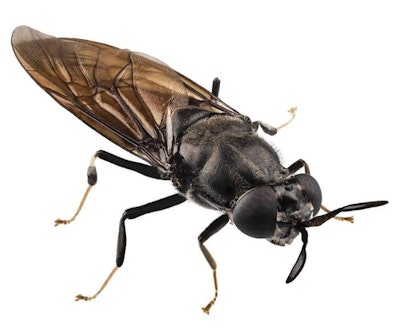 The European Commission has officially authorized insect-based protein for aquaculture feed, with the regulation text to come into effect on July 1.
European Union regulations will now allow insect protein to be fed to farmed fish, but at least one company says the European Commission should act to allow safe and sustainable insect-based feedstock to be used in the pork and poultry industries.
"We welcome the European Commission's official ruling on this important reform for the aquaculture industry," said nextProtein co-founder and Chief Operating Officer Syrine Chaalala. "With the vast majority of farmed fish relying on fishmeal and the depletion of our marine ecosystems, insect-based proteins offer the aquaculture industry a more sustainable way to ensure fish for human consumption."
NextProtein, a French-Tunisian agritech startup, said "more must be done to ensure outdated regulations do not slow progress in such a vital field of sustainable agriculture."
"What must now be a priority is ensuring outdated regulations are amended to ensure safe and sustainable insect proteins can be used in the poultry and pork industries," said nextProtein co-founder and CEO Mohamed Gastli said. "Insect proteins are one of the most abundant sources of alternative proteins but until now the legal framework covering insect proteins needs has yet to fully catch up to the future of what businesses like ours can offer to modern agriculture.
"We now need the European Commission to amend regulations to include the poultry and pork industries and ensure safe and sustainable insect proteins, which are created using significantly less land, water and energy resources, with less greenhouse gas emissions."
The European Food Safety Authority in 2015 published a risk profile on the use of insects as human food and animal feed, addressing and comparing various potential hazards. It noted that risks would very much depend on production methods, substrate, life cycle stage at harvesting, species and methods used for processing.