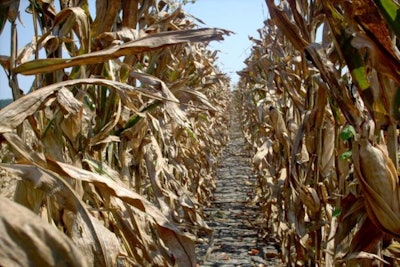 In its final Monday Mycotoxin Report of the season on November 20, Neogen summarized the mycotoxins that were found in corn across the United States this growing and harvest season.
Fumonisin was found in Texas, South Dakota, North Carolina, Tennessee, Alabama, Oklahoma, Kansas, Missouri and New York. Fumonisin was more prevalent this year than in years past and at higher levels, Neogen said.
"Additional late-season rains may promote more fumonisin development after the dry summer. Corn that is behind normal maturity could be more vulnerable to early frost or more excessive rains," the company said.
Aflatoxin was detected in Iowa, North Dakota, Georgia, Texas, Alabama, Oklahoma and Kansas.
T-2 toxin was found in Texas, South Dakota, New York and Wisconsin.
Zearalenone was found in Iowa, Mississippi and New York.
Deoxynivalenol was detected in New York, Pennsylvania, Texas, Nebraska, Wisconsin, Kansas, Iowa, South Dakota and Minnesota. Deoxynivalenol develops during warm, wet weather after corn silking and is one of the most important mycotoxins because it occurs frequently and at levels of toxicological relevance for swine.
Pigs are the species most susceptible to deoxynivalenol due to its rapid absorption, extensive distribution throughout the body, and poor metabolization. The most common symptoms in pigs include decreased feed intake and immune suppression.
"Mycotoxins are impacted most by weather during the growing season," Neogen said. "However, harvest timing, crop moisture management and storage methods also play a part in toxin growth."
The big three risks for mycotoxin development, according to Neogen, are:
Aflatoxin in drought areas
Fumonisin from excessive rains
Early frost to immature corn for DON
Corn harvest progress
Eighty-three percent of corn has been harvested, a 13 percent jump from last week, but still eight points behind the five-year average. States considerably further behind their own averages are Minnesota, Colorado, Wisconsin, Ohio and Indiana.