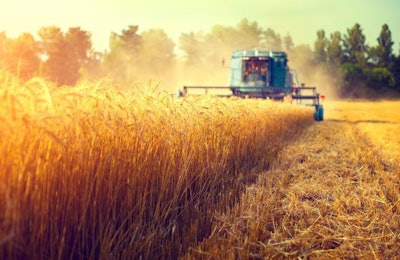 The 2017 Nutriad Mycotoxin Survey found that this year's harvest of wheat in Poland was of medium quality in terms of mycotoxin contamination. This is an improvement when compared with last year's harvest.
Based on the results of the survey conducted immediately after the 2017 wheat harvest, the 2017 wheat crop in Poland should not automatically be considered safe for inclusion into finished feed rations for all animal species and a degree of vigilance is prudent.
The survey covered 88 wheat samples from across Poland. It provided insight into the incidences of aflatoxin B1 (AfB1), zearalenone (ZEN), deoxynivalenol (DON), T-2 toxin, HT-2 toxin, fumonisin B1 (FB1), fumonisin B2 (FB2) and ochratoxin A (OTA).
Special attention should be paid to the very high incidence of DON found in more than 80 percent of the samples and to the maximum recovered concentration which almost reached 4 mg/kg.
Survey results showed that 83 percent of the wheat samples taken in Poland were contaminated with DON. None of the samples contained AfB1, FB1, FB2, T-2 toxin and HT-2 toxin. Only 2.3 percent of samples contained ZEN, an unexpectedly low incidence of contamination. The average concentrations of the recovered mycotoxins were low. The highest concentration of DON found in one of the samples was 3990 μg/kg. As expected, the results showed that 1,1 percent of wheat samples were contaminated with OTA and the highest concentration found in one sample was 2 μg/kg.
The contamination levels of DON and ZEN in wheat in 2017 were much lower than in 2016. However, the percentage of samples contaminated with DON were higher in 2017 than in 2016. In 2016, there were higher incidences of other mycotoxins compared to 2017 where only 3 mycotoxins types (DON, ZEN, OTA) were detected.
Methodology
The wheat samples were collected directly from farms or animal feed production sites. Sample providers were advised to follow the principles of good sampling. Analytical personnel and laboratory staff were not involved, and therefore did not influence any part of sampling.
All 88 samples were collected almost immediately after harvesting and so the probability of storage mycotoxins (OTA) developing was low. More than 700 analyses were conducted to test for the occurrence of the 8 mycotoxins most frequently found in agricultural commodities intended for animal production. All eight mycotoxins were analyzed by liquid chromatography tandem mass spectrometry (LC MS/MS).
For the purpose of data analysis, non-detection levels were based on the limits of quantification (LOQ) of the test method for each mycotoxin: AfB1 < 1 μg/kg; ZEN < 10 μg/kg; DON < 50 μg/kg; FB1 < 50 μg/kg; FB2 < 50 μg/kg; OTA < 0,5 μg/kg; T-2 toxin < 20 μg/kg and HT-2 toxin < 50 μg/kg.