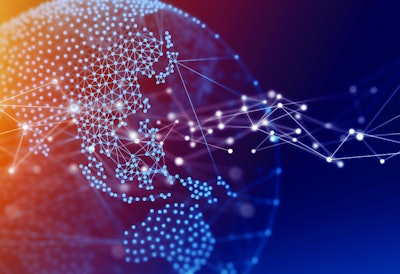 Feed production dropped by 261 MMT in 2022, attributed to ASF, HPAI and other disease challenges
In 2022, global feed production remained steady at 1.266 billion metric tons (BMT), a decrease of less than one-half of one percent (0.42%) from 2021's estimates, according to the Alltech Agri-food Outlook 2023, the animal nutrition company's annual survey that includes data from 142 countries and more than 28,000 feed mills.
In the Asia-Pacific region, feed production dropped 0.51%. China (260.739 million metric tons [MMT]), India (43.360 MMT), and Vietnam (26.720 MMT) are all represented in the top 10 feed producing countries globally. Reductions in China, Pakistan, Thailand and Malaysia were almost offset by increases reported by Vietnam, the Philippines, Mongolia and South Korea.
According to the report, China's overall feed production reduced by nearly 3%. Although China experienced a narrow reduction in feed production, it remains the largest feed-producing country in the world. Despite the challenges faced there, Vietnam has been a growth market for feed in Asia. Vietnam experienced a great recovery in terms of its feed tonnage in 2022, entering the top 10 ahead of Argentina and Germany and crowding out Turkey.
Major species data and analysis
With various uncertainties and volatility, the agrifood sector faces many challenges ranging from disease, logistics, price, inflation, energy and labor shortage, which may disrupt the supply chain. In countries that rely heavily on import of raw materials, in the beginning of the 2022, the import of raw materials was interrupted because of the war in Ukraine.
Here's a recap of how feed production for the major segments of Asian animal protein production fared in 2022.
In China, low pork prices led to a decrease of 5.5 MMT in pig feed production. Because of a sharp increase in the number of breeding sows in 2021, pigs sold quickly in the first half of 2022, lowering the price of pork and leading to a decline in the number of live pigs.
China's feed production has decreased slightly. The main reason comes from the decrement of pig feed. Due to the sharp increase in the number of breeding sows in China in 2021, many pigs intensively sold in the first half of 2022, directly affecting pork price. Depressed pig prices in the first half of this year led to a decline in the number of live pigs on hand. With the rise of pig prices in the second half of the year, the number of live pigs on hand gradually rebounded. Overall, compared with last year, the pig feed market of this year has decreased to a certain extent.
Vietnamese feed production increased by 3.36 MMT in 2022. In Vietnam, there is a shift from backyard to commercial swine farming using compound complete feed instead of food waste. Production has recovered to nearly the same level it was before the region was challenged by African swine fever (ASF). As pork prices increase, more farms are investing in pigs.
Many countries in the region continue to grapple with ASF. For example, the decrease in Malaysia's total feed production in 2022 compared to 2021 is mainly attributed to the outbreak of ASF in pig farms, and Newcastle disease in poultry farms affecting the agricultural market.
Chicken meat and eggs are still the major protein source because of the affordable price, especially in a time of slow economic recovery. However, affected by the high input cost, low retail price, and disease, layers and broilers' feed tonnage showed a decrease in most countries in the region.
Broiler feed production decreased in China but increased in Vietnam. In China, production was affected by low market demands and high raw materials prices. In India, higher broiler feed prices continue to challenge the industry's margins and limit capacity growth. Avian influenza (AI) affected India, Japan, South Korea and Vietnam. Feed production in the Philippines increased significantly, due to a switch from pig farming to broilers because of ASF.
Although the 2022 price for eggs was relatively high in China, the feed material cost (corn and soybean meal) was prohibitive to layer production. The number of laying hens in stock in 2022 decreased significantly compared with 2021. Layer feed tonnage was down 3%, or a reduction of 1 MMT. In the Philippines, layer feed production increased by 0.734 MMT — or 28% — because ASF prompted conversions from swine production to layer and broiler farms. India reported an 8% decrease in layer feed tonnage because many small layer farms shut down. In Indonesia, the rupiah depreciated against the U.S. dollar, impacting feed production cost and feed additives prices while broiler prices were low and egg prices were erratic.
In the second half of 2022, the layer segment showed as "growing" but it is more just a recovery as during the Q4 2021 and Q1 2022 the egg price was very low, leading to many farmers cut down their laying hen population to avoid bigger loss.
Vietnam reported a 16% growth in dairy feed production. Smaller increases were reported in India, China, Japan, Thailand, Malaysia, Chinese Taiwan and Mongolia. Nepal, Pakistan, Sri Lanka and and Bangladesh reported decreases in dairy feed tonnage because of reduced milk consumption and reductions in breeder stock. India saw 2% increase owing to significant growth in dairy cooperative and leading feed producers.
Feed millers in Bangladesh are focusing more on cattle feed, as the market for concentrate feed is growing significantly. As a result, that country reported a 56% increase in its beef feed production, from 0.261 MMT to 0.408 MMT. South Korea reported a 3% increase in feed production, from 4.06 MMT to nearly 4.2 MMT. China and Japan also reported small increases. China now has an increased demand, which leads to an increase in beef farming. Mongolia's total population of beef has increased and the country is finding opportunities to export beef to China and Japan.
Asia is a major exporter of seafood and aquaculture products. With the recovery of China's economy and improvements in living standards in recent years, the demand for aquatic products has been increasing. The scale of the region's aquaculture industry expanded in 2022. There also was feed production growth in the Philippines, Bangladesh, South Korea, Malaysia and others.
In Bangladesh, aquafeed has a 12.75% increase due to increased fish retail price and increase in fish farming.
With the continuous development of China's national economy and the improvement of residents' living standards in recent years, the demand for aquatic products has been increasing. Aquaculture industry market scale has also been expanding.
In India, aquaculture can be considered as a robust growing species sector in considerable volume (7.49% growth over 2021) because of marginal growth in leading aquafeed producers and a rise in production capacity of aqua key clients, which is driven by export of farmed shrimp.
Consumer tendencies
In Asia, there is rise in protein consumption with higher demand from the consumer side. With the gradual opening up of Asia, the demand for catering will rise and retail foodservice will increase. In light of the pandemic and animal diseases, primary consumer trends are driven by food safety concerns, food quality, antibiotic-free food, traceability and animal welfare, but the purchase decision mainly depended on price due to the economic recovery.
In China, due to the pandemic, consumers' behavior has changed significantly and continuously, and they have taken a more proactive approach to health. Taste, health, plants and immunity are the mainstream consumption trends that will become popular in the future. Therefore, selenium-rich pork, DHA-rich eggs and other functional foods will become more and more popular in the future Chinese market.
In Taiwan, meat quality is a focus for purchase because the average prices of pork is getting higher.
In Indonesia, functional eggs, value-added shrimp and ready-to-cook chicken meat are popular. Seafood products gain more preference (frozen fillet, frozen prawn, seafood). Lockdown shifted preference from buying live birds at wet markets to buy half cooked and frozen chicken delivered to home or nearby outlets.
In Japan, there are some no-antibiotic-ever (NAE)-labeled poultry meat sold at some major retailers as part of their original brands. This is mainly driven by the retailers and the price of the product is about 15-30% more expensive.
In Malaysia, the farm-to-table concept is becoming increasingly popular in restaurants and chefs are using ingredients and products sourced from local farmers and suppliers. Generally, food is sustainably sourced to maintain a healthy food ecosystem.
In Mongolia, consumers are trying to choose healthy, nutritious food. They want the origin of locally sourced meat to be clear and to not be sourced from a zone or province where animal disease is reported. Households are facing a problem selling their herd directly anywhere around the country. Therefore, the feedlot model will be the biggest disruptor, working between households and consumers.
In Myanmar, government is also concerned about food safety, antibiotic resistance and residues, so the government announced antibiotic restriction in the finisher stage. People begin to be aware of antibiotic resistance and intend to reduce the usage of antibiotics in the animal feed. Feed efficiency, food safety, sustainability and antibiotic-free programs are starting to practice among the farmers.
In Vietnam, one of the biggest trends is growing demand for organic meats.
Technology, sustainability trends
With more industry consolidation and integration, more technologies are applied to address the issue of labor shortage and the need for efficiency. Nutrition technologies are attached with more importance to tackle the challenge of disease, improve feed efficiency and reduce cost, the use of antibiotics and environmental impact.
In China, for example, corporate pig producers are building bigger and faster, and employing fewer people and use more technology, such as "intelligent" feeding systems, manure-cleaning robots and infrared cameras to detect when pigs have a fever. With this type of pig factory, the companies can keep disease out while increasing efficiency to satisfy the country's huge appetite for pork and keeping cost low.
With severe environmental challenges, sustainable development has become nonnegotiable for every industry. Agriculture has the biggest potential to shape the sustainable future of the planet. In Asia, many sustainable practices are in progress and environmental, social and governance (ESG) policies are becoming criteria for international financial institutes to make investment decisions.
Some major retailers, feed manufacturers and seafood companies have begun to invest a lot in ESG. Applications include biogas emission reduction, organic trace mineral, antibiotic reductions and clean energy investments.
In agriculture, the Chinese government is paying more attention to following aspects in line with its climate policy to achieve carbon neutrality by 2060:
Building a monitoring system for agricultural carbon emission, focusing on making new breakthroughs in the construction of carbon emission standards, the layout of monitoring outlets and the construction of a data platform.
To build a "big data platform" is to establish a collaborative innovation platform for different stakeholders as soon as possible.
Key points are water control, efficiency enhancement, straw recycling, resource utilization of livestock manure, and agricultural film pollution prevention and control.
---
Animal disease challenges in Asia
ASF has played a significant role in China, Indonesia, Malaysia, Myanmar, Nepal, the Philippines, Singapore, South Korea, Thailand and Vietnam. In Asia, Indonesia, Mongolia, South Korea and Thailand were affected.
Avian influenza affected all regions in the world in 2022. In Asia, it affected nearly all countries.
Foot-and-mouth disease was an issue in Asia, in Indonesia, Mongolia, South Korea and Thailand. Other disease include porcine reproductive and respiratory syndrome (PRRS), porcine epidemic diarrhea (PED) virus, coccidiosis, lumpy skin disease in cattle and several diseases affecting shrimp.
---
Editor's note: For in-depth insights into global feed production trends, download the Alltech Agri-food Outlook 2023: www.alltech.com/agri-food-outlook