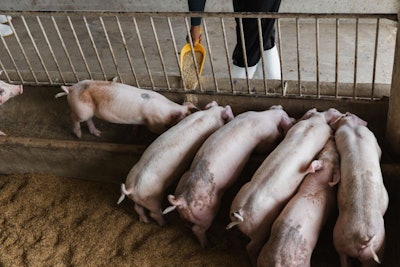 Scientists from Germany and Sweden are undertaking new studies to fill in gaps in our knowledge about the survival of the African swine fever (ASF) virus under practical conditions.
African swine fever (ASF) viruses that may have been introduced into processed byproducts, grain, oilseed meals and compound feed are largely inactivated as a result of the processing steps involved in feed manufacture. This is a key finding of a study of published literature by Germany's Friedrich Loeffler Institute (FLI) and Federal Institute for Risk Assessment (BfR), as well as the National Veterinary Institute of Sweden (SVA).
Similar conclusions were drawn from a study into the transmission of the ASF virus by the European Food Safety Authority (EFSA) in 2021.
However, both of the studies highlight a level of uncertainty in their conclusions arising from a lack of scientific data in some areas. The new German-Swedish collaboration aims to fill in those gaps by investigating the stability of ASF viruses in a range of animal feeds and bedding materials under conditions of processing and storage.
Titled "Literature review and qualitative risk assessment on the role of feed materials in African swine fever virus transmission," the review is published in English on VetLine.de.
Scale of illegal pork imports to UK revealed
A special operation by the border authorities at a one of the busiest ports in the United Kingdom (U.K.) has given an insight into the scale of illegal imports of pig meat from Eastern Europe.
This month, detailed searches were carried out of a small number of vehicles entering the port of Dover from Moldova, Poland, Romania and Ukraine.
At a debate in the London House of Commons this month, several threats to the health of the U.K.'s human and porcine residents were raised by Natalie Elphicke, Member of Parliament (MP) for Dover.
According to the official record in Hansard, Elphicke reported that the Dover Port Health Authority carried out searches of 22 vehicles over a 24-hour period. Among the food items found were uncooked animal products stored in paper, and without temperature regulation. Of particular concern was raw pork, which had been loosely wrapped and concealed beneath other products in a vehicle garbage bin. In all, 20 pages of images of such illegally imported products were included in the report of this one operation.
"It is clear that the risk of maggoty meat, meat of unknown origin, which often means horse or other illegal meat, rotting meat due to the lack of temperature controls, as well as fresh blood dripping on to other products, is of real concern," said Elphicke.
Each day, there are up to 10,000 vehicle movements across the English Channel between the U.K and Europe, she stated.
Illegal pork importation raises ASF risk
From 2023, border checks at U.K. ports of entry are scheduled to be fully implemented following the U.K.'s departure from the EU (Brexit). Without the necessary staffing, systems, facilities and training in place, the recent exercise at Dover demonstrated that biosecurity at the border is not at all secure.
Aware that the risk of ASF entering the U.K. is high, ministers put in place new measures to prohibit the import of some pork products last month.
Despite this, according to Elphicke, the illegal pork trade is rife at the port of Dover, and this route accounts for 80% of this illegal trade.
"Without adequate checks," she said, "there is nothing to stop it.
"Greater mitigation is needed to control the risk of African swine fever entering the U.K. via illegally imported EU porcine meat," concluded the Port Health Authority report.
For the industry body, the National Pig Association (NPA), the tighter restrictions on movements of pigs and pork products introduced in September were welcome.
According to NPA chief policy adviser Rebecca Veale, the new rules aimed to stop illegal consignments that were not safe for human consumption, and also posed a risk to pig health.
"ASF is a notifiable disease, which not only would severely compromise the health and welfare of pigs and can potentially devastate businesses up and down the country," she said, "and it would also have huge implications for our ability to export pig meat, which is important for carcass balance."
Based on the presence of the ASF virus in many European countries, its ability to "jump" across countries mediated by human activity, and its long survival in infected meat, Veale said keeping illegal imports out of the U.K. is "an absolute priority."
According to the Animal Disease Information System of the European Commission (EC), cases of ASF have occurred this year in domestic pigs and wild boar in all four of the countries of origin of the vehicles searched in the exercise at Dover.
Outbreaks in European pigs pass 450
Since January 1, the number of confirmed ASF outbreaks in domestic pigs in Europe has reached 453.
This is according to the Animal Disease Information System of the EC (as of October 22). So far this year, 12 European states have officially registered one or more ASF outbreaks through this system.
For comparison, 11 European states registered a total of 1,874 ASF outbreaks with the EC over the whole of 2021.
Registering by far the most outbreaks in 2022 has been Romania with 263. This is followed by Serbia, whose total has reached 98 for the year so far. Only these two countries and North Macedonia have registered new cases in domestic swine with the EC since the start of October.
Over the past week, only North Macedonia has officially reported new cases in domestic pigs to the World Organisation for Animal Health (WOAH). According to the notification, this involved one backyard herd of nine animals. It was located in a municipality in the Northeastern region, where previous cases have been reported.
It brings to 31 the country's outbreaks since the end of 2021 — a total that has directly impacted almost 1,100 domestic swine and 11 wild boar.
Europe's wild boar total for year approaches 5,700
So far this year, 5,698 ASF outbreaks among wild boar have occurred in Europe, according to the EC notification system (as of October 22).
Registering one or more outbreaks in 2022 have been 14 of the continent's states.
Within the wild population, recording the most outbreaks with the EC in 2022 has been Poland (1,589), followed by Germany (1,278), Latvia (671), Hungary (484), Slovakia (466) and Romania (374).
Since the previous update from this source (dated October 14), Estonia, Italy, Lithuania and Serbia also registered new cases in wild boar though this system.
For comparison, 12 countries confirmed with the EC one or more ASF cases among the wild population — a total of 12,150 outbreaks — during the whole of 2021.
View our continuing coverage of the global African swine fever situation.