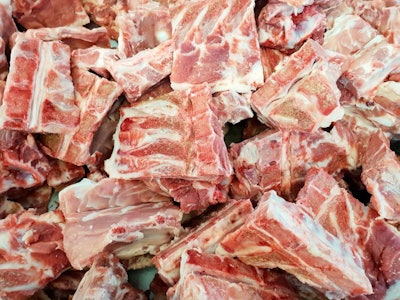 Supply chain bottlenecks, high feed costs, labor shortages among pressures for pork markets
Hog producers in all major pork-producing regions around the world are facing headwinds including supply chain bottlenecks, high feed costs and tight grain stocks, and labor shortages, according to Rabobank's Pork Quarterly for the fourth quarter of 2021.
"The most severe impact is being felt in markets that were slow to recover from the pandemic or have struggled with trade disruption or disease," the report said. "The drop in expected returns has dimmed the prospects for global herd expansion in 2022, yet improved herd health and productivity gains are expected to offset a portion of the slower growth."
The outlook for pork demand is uncertain, as supply chain disruptions are raising costs and slowing economic growth.
"Ultimately, consumers will likely trade down to lower-cost cuts and other proteins or will reduce pork consumption altogether," the report said. "This slowdown in expected demand is likely to drive a wider imbalance with supply, ultimately slowing trade and driving prices lower."
All of these pressures are tempering expansion plans for hog production in many markets. In North America and Europe, labor challenges have affected transport, slaughter facilities and boning lines.
While feed prices have improved somewhat, tight corn and soybean supply and high input costs are expected to contribute to feed market volatility in 2022. Diseases, including porcine reproductive and respiratory syndrome (PRRS) virus, porcine epidemic diarrhea (PED) virus and African swine fever (ASF) virus are leading to herd loss as well, the report said.
Regional summaries
China: Hog prices are down more than 60% from a year ago and production costs have risen, causing producers to post six months of losses and leading to herd culling. Meanwhile, demand volatility is negatively impacting prices, but Rabobank expects demand to improve in the fourth quarter. Pig meat imports are down 24% year over year and are expected to fall further in the fourth quarter and remain weak at the start of 2022.
Europe: Pork production in the EU27+U.K. from January through July was up 3% from the prior year. Reductions are expected in the fourth quarter of 2021 and early 2022. Exports for the region in the first seven months of the year were up 13%. EU average pig carcass prices were down 16% in week 38 compared with the five-year average.
North America: U.S. hog prices were down sharply in October from midsummer, but are 21% higher than a year earlier. Producers are expected to remain profitable through much of 2022. Domestic demand for pork is strong, while exports are up 1.2% year over year. After the discovery of ASF in Haiti and the Dominican Republic this year, U.S. producers may be more cautious about market expansion.
In Mexico, hog prices were down from mid-May but 19% higher than the previous year, with prices expected to stabilize in the fourth quarter. Pork prices are down 21% from peak seasonal levels but up 12% year over year, and pork carcass values are up 11% from a year ago. Pork imports were up 16% year over year through July.
Canadian hog markets are beginning to normalize after a four-month strike at a Quebec packing plant backed up supply. The backlog contributed to a 3.8% increase in hog weights, but overall slaughter is flat. For the year, pork production is up 1%, with modest growth in the hog herd expected in 2022. In August, pork exports were up 8% year over year in volume and 17% in value.
Asia: In Japan, pork prices are expected to fall from October, and producers will see lower profitability resulting from lower pork prices and higher feed prices.
Rabobank said it expects South Korea's pork prices to rise through year-end. Hog producers in the northern regions of the country continue to face the greatest risks from ASF, but few have chosen to proactively cull.
Vietnam is seeing lower hog prices resulting from lower demand attributed to the COVID-19 pandemic. While ASF continues to spread in the country, the hog production sector has rebuilt its herd as the overall impact from ASF has declined. Rabobank said Vietnam "substantially" increased its imports of pork muscle meat in the first half of the year, up 89% year over year.
In the Philippines, producers continue to struggle with ASF, and hog inventories were down nearly 18% year over year in July. Pork prices have fallen on weak overall demand and an increase in pork imports; pork meat shipments were up more than 400% year over year in the first half of the year.
Brazil: Rabobank reports that pork supply and demand vary widely by region in Brazil. Overall, hog prices are down while feed costs remain high. Pork prices are trending lower and demand is expected to improve.