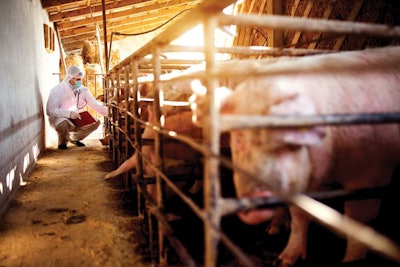 ASF Master Question List designed to provide comprehensive information on African swine fever and the US' emergency response preparedness
The U.S. Department of Homeland Security (DHS) Science and Technology Directorate (S&T) has published a new resource containing information about African swine fever (ASF) and the country's emergency response preparedness.
The ASF Master Question List (MQL) includes information on a range of topics related to ASF, from transmissibility to genomics. The ASF MQL helps fill a knowledge gap identified by the DHS Countering Weapons of Mass Destruction Office and is one example of how DHS S&T is supporting global response efforts with actionable information. This resource may help agencies like U.S. Customs and Border Protection use science-driven data to efficiently flag and remove unauthorized pork and pork products at America's borders and other points of entry.
"This is the first time we are creating a master question list for an animal disease, said Dr. Lloyd Hough who leads DHS S&T's Hazard Awareness & Characterization Technology Center. "We are proactively looking for knowledge gaps with our partners as ASF virus continues to be a significant threat internationally. Together, DHS and USDA (U.S. Department of Agriculture), and our partners have recognized this and expanded the ASF research footprint, while the MQL helps us make the most of limited resources."
ASF has never been detected in the U.S., but the disease poses a huge risk to the country's pork industry and food supply.
"Just because a disease isn't currently present in the United States, doesn't mean it isn't a potential threat or that we shouldn't be prepared. The rapid spread of COVID-19 demonstrated how quickly a small outbreak occurring overseas can explode into a massive epidemic disrupting our daily lives," Hough said. "This work may prove vital since ASF re-emerged recently in China and continues to impact other parts of the globe significantly."
The questions covered in the MQL include:
How much virus will make a healthy pig ill?
How does it spread from one animal to another?
What are the clinical signs of an infected animal?
How long after infection do clinical signs appear?
What are the most effective biosurveillance measures and methods of confirming infection?
How long does the virus persist in the environment?
What are the risks of the virus entering the U.S.?
How many species does it infect and can it transfer from species to species?
Are there effective vaccines and treatments to limit or prevent infection and/or spread?
What are effective methods to kill the virus?
What are the most effective methods of depopulation and disposal?
Is wastewater a significant risk of transmission?
Is any personal protective equipment necessary to limit spread or protect from decontamination efforts?
Is there a test to differentiate laboratory-derived strains from natural strains?
How does the virus compare to previous strains?
During a recent USDA virtual event, experts stressed the importance of biosecurity in preventing ASF and discussed the key challenges for the U.S. in keeping the country free from the disease.
View our continuing coverage of the African swine fever outbreak.