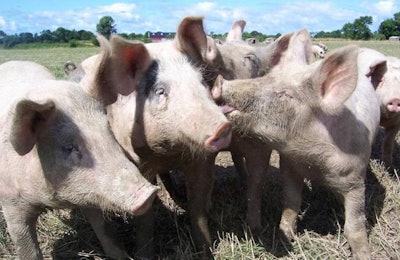 As the disease returns to another region of Ukraine after a short absence, new outbreaks of African swine fever are announced among Polish pigs.
Over the past week, 16 new outbreaks of African swine fever (ASF) have been confirmed by Poland's chief veterinary office. They bring the country's total so far this year to 71. Since the first cases were identified in March, the number of Polish pigs directly affected has reached 45,854.
Of the latest outbreaks — affecting a total of 1,332 pigs — the great majority belonged to herds of no more than 35 animals. However, ASF virus was detected on two farms in Warmia-Masuria province with 151 and 855 pigs, and two in Lublin with 64 and 75 animals. All of the latest outbreaks were in these two eastern provinces.
So far this year, Poland's ASF outbreaks have occurred in seven provinces. Accounting for 50 of the 71 outbreaks so far, worst affected has been Lublin. Cases have also been confirmed in Warmia-Masuria, Podkarpackie (Subcarpathia), Lubusz, Masovia, Wielkopolskie (Greater Poland), and Dolnoslaskie (Lower Silesia).
An overwhelming majority of ASF virus-positive cases in Poland have belonged to small herds. However, 10 outbreaks have occurred in herds of more than 200 pigs. The country's first confirmed outbreak in March was in the largest herd, which had more than 23,700 pigs.
General ASF situation in Europe's domestic pigs
In the past week, Ukraine's animal health agency has officially reported the return of ASF to Ivano-Frankivsk. Absent from this western region since November 2017, the virus was detected in a backyard herd this month. Four of the 62 pigs died, and the rest have been destroyed.
Just one week previously, the Ukrainian agriculture ministry reported to the World Organisation for Animal Health (OIE) that ASF had returned to the neighboring oblast of Ternopil.
From the Bulgarian agriculture ministry has come a declaration that the ASF situation has been "resolved." This announcement to the OIE came after two confirmed ASF outbreaks on small farms in the eastern counties of Varna and Sumen this month.
Up to August 24, there have been 636 outbreaks of ASF among domestic pigs in Europe since the start of 2020, according to the Animal Disease Notification System of the European Commission (EC).
This total has risen by 164 since the previous update, which was published three weeks previously.
From this source, worst affected has been Romania (516 outbreaks). In second place is Poland with 63 registered outbreaks, while Bulgaria has recorded 18. Other countries that have reported ASF outbreaks in domestic pigs to the EC since the start of August are Lithuania, Slovakia and Ukraine.
Europe's wild boar toll exceeds 8,000 for the year
Over the past week, two European countries have reported to the OIE new ASF cases among their respective wild boar populations. In the period August 10-16, 46 wild boar in Hungary tested positive for the ASF, while there are seven new cases in Latvia.
Up to August 24, EC recorded 8,058 confirmed outbreaks of ASF in wild boar since the start of 2020. This represents an increase of 336 since August 3. During the whole of 2019, there were just over 6,400 confirmed cases in Europe's wild boar population.
According to this source, Hungary had recorded the most outbreaks — 3,346 — which is a jump of 108 from three weeks previously. Now standing at 3,036, Poland's total has risen by 121 over the same period.
Other European states to have confirmed recent ASF outbreaks to the EC so far this year are Romania (633), Bulgaria (401), Latvia (192), Lithuania (154), Slovakia (138) and Estonia (40).
Belgium, Italy, Moldova, Serbia and Ukraine registered ASF in wild boar this year, but there have been no new cases in recent months.
View our continuing coverage of the global African swine fever situation.