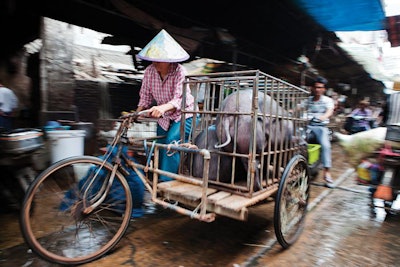 Rabobank senior analyst says entire supply chain will eventually be affected
The effects of African swine fever (ASF) will change several aspects of China's pork industry, according to Chenjun Pan, senior analyst at Rabobank.
Pan spoke August 26 during the Alltech ONE Virtual Experience session on the Asian market, "The Art of Adaptation: Evolving Agri-Business Models." She said ASF will eventually affect the entire supply chain, from biosecurity to market consolidation and modernization to consumer attitudes.
"African swine fever is the biggest factor for the pork market in the past two years, not only in China but also in Vietnam and the Philippines," she said.
The deadly pig disease has brought biosecurity to the forefront, and that has meant big changes for China's hog operations.
"Biosecurity is probably the top consideration, priority, for producers, and that drives the whole industry into industrialization and modernization and has led many small producers to leave the business because they are vulnerable to disease outbreak and also they don't have a lot of financial strengths to continue the business in these very difficult times," she said.
Pan predicted China's pork market would eventually be largely consolidated but, in the meantime, technology will play a big role in monitoring disease outbreaks.
Chinese consumers are challenged by very high pork prices, but they also have better access to information now, so they demand answers.
"They also ask a question: Why? What's behind these disease outbreaks or, what's wrong along this supply chain?" she said.
Even after the country eventually emerges from the devastating effects of ASF, Pan said she does not expect pork consumption to fully recover.
"I expect pork consumption in China will likely be very difficult to go back to the pre-ASF level, even when the whole industry recovers, which means pork consumption will likely be flat or even decline in the future," she said, adding that pork's market share will be lower than pre-ASF levels and more market share will shift to other proteins.
View our continuing coverage of the African swine fever outbreak.