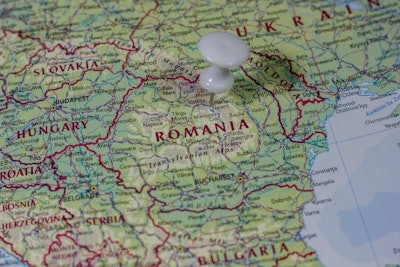 As 4 European states record new cases of African swine fever (ASF) in wild boar over the past week, Romania is the only country to report additional outbreaks among domestic pigs.
All 14 of the latest African swine fever (ASF) outbreaks in Romania occurred in backyard herds during the month of June, according to the official report to the World Organisation for Animal Health (OIE).
Belonging to herds of up to 68 animals, losses to the disease through mortality or culling in these latest outbreaks were 213 pigs. Cases were widely distributed across the country, affecting eight counties, reports the national veterinary authority.
In its latest update, the European Commission Animal Disease Notification System (ADNS) records a total of 341 ASF outbreaks in domestic pigs in Europe so far this year.
This represents an increase of 14 from the previous week's report. Romania accounted for 13 of these latest outbreaks, and there was one in Poland.
From this source, by far the worst-affected country in Europe this year has been Romania (308 outbreaks). Also reporting cases in 2020 have been Bulgaria (17 outbreaks), Ukraine (8) and Poland (5), as well as Greece, Lithuania and Moldova, each with one outbreak.
According to the latest report from the veterinary authority, there have been no recent ASF outbreaks in Greece. In February, the country recorded its first ASF cases at a small farm in the northern region of Central Macedonia.
European wild boar losses exceed 7,000
Total losses of Europe's wild boar so far this year has reached 7,060, according to the EC-ADNS system. This is an increase of 138 from the previous week's total, and includes 72 new cases in Hungary, 42 in Poland and 11 in Romania.
At 2,938 and 2,737, respectively, Hungary and Poland have reported the highest number of infected animals since the start of 2020.
Other countries that have reported significant numbers of ASF-infected wild boar to the EC so far this year are Romania (539 cases), Bulgaria (335), Latvia (133), Slovakia (124) and Lithuania (119). Estonaia has also confirmed one new case during the past month.
During the whole of 2019, 6,407 European wild boar were infected with ASF, EC figures reveal. With 7,060 cases already registered for the first six months of this year, the 2020 total looks likely to exceed that of the previous 12 months by a significant margin. There has been a sharp upward trend in cases over recent years.
Over the past week, three European countries have reported new ASF cases in wild boar to the OIE.
Latest report from Poland covers a total of 161 cases identified between February 24 and March 10. The majority were in western Poland, mostly in the province of Lubusz. There were also some cases in Greater Poland and Lower Silesia.
Also registered with the OIE over the past week were 79 new cases Hungary and 10 in Romania.
View our continuing coverage of the global African swine fever situation.