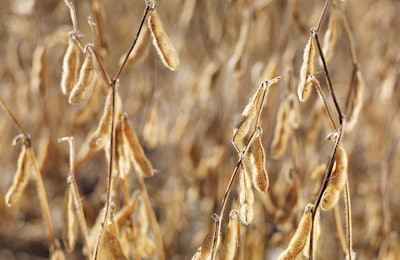 While the U.S. Department of Agriculture (USDA) reports that China's feed demand and imports of soybeans are down, some analysts say the numbers are still surprisingly high, given the depletion of the country's pig herd due to the deadly African swine fever (ASF) outbreaks that have plagued it for almost a year.
For the 2018-19 marketing year, the USDA said soybean mean feed use was down 3.3 million metric tons (mmt) from 2017-18, and reduced feed demand in 2019-20 is expected to directly translate into lower soybean meal use for feed. China's soybean imports are down 1 mmt from 84 mmt in 2018-19. China imported 42.4 mmt of soybeans during the first seven months of 2018-19, down by 8.2 mmt compared with the same period last year. Marketing years 2019-20 and 2018-19 estimates are significantly lower than the 2017-18 figure of 94.1 mmt.
"The soybean crushing rate and soybean demand is down compared to last year at this time, but is still surprisingly strong given how many hogs China has lost," said Darin Friedrichs, senior Asia commodity analyst at INTL FCStone, in a CNBC report. "If China loses about 40% or more of their hogs, we would normally assume soybean demand would be down a large amount as well. At this point it's maybe only down 5-10% or so, which is surprising."
China's official reports say it has lost 24% of its hog herd, but Rabobank estimates that number could be as high as 70%. Losses of that scale could take a decade for the country to recover from, John Fering, a managing director at Cargill, told Bloomberg.
Using gene editing to increase soybean production
Meanwhile, scientists at the Chinese Academy of Agricultural Sciences have created gene edited soybeans that can adapt to warmer climates in low-altitude regions.
The mutated soybeans flowered later, had improved height and an increased number of pods, providing a basis to breed varieties that would grow well in low-altitude areas, Xinhua reported. This raises the potential for the higher production of the crop in the country's south, where soybean crops often face problems including premature flowering, a shortened growth period and reduced production, according to the South China Morning Post.
A three-year project is aimed toward improving conditions for nurturing, planting and producing soybeans in regions near the equator.
View our continuing coverage of the African swine fever outbreak.