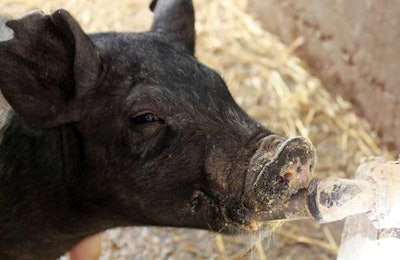 African swine fever (ASF) is widespread in China, spreading elsewhere around the world and carries significant potential to impact all animal protein industries in 2019 and beyond.
This is according to a number of speakers at the International Poultry Council's First Semester Conference in New Orleans, which took place between April 13 and April 18, 2019. These speakers — including representatives of the agricultural banking industry, the global protein business and an independent economic observer — estimated the disease could lead to a loss of between 25 percent and 35 percent of China's pork production.
The situation in China and around the world
At the conference, Christine McCracken, a senior protein analyst covering North America for Rabobank's RaboResearch Food & Agribusiness imprint, said the disease will likely lead to an elimination of 30 percent of China's pork supply. That translates to an estimated 150 to 200 million pigs affected, which is about 30 percent greater than the U.S.'s annual pork production and roughly the same amount as Europe's annual pork supply.
Moreover, the pork breeding operations in China are devastated by the disease and, if the disease were stopped today, it would take more than eight years to restore the country's breeding capabilities to pre-ASF levels.
A report published by Rabobank in early April, and co-authored by McCracken, said ASF has now spread to every province in mainland China since it was discovered in August 2018 and is present elsewhere in Southeast Asia – including Vietnam and Cambodia – and could continue to spread further around that region of the world. In mid-April, China's Agriculture Minister Han Changfu said the ASF situation was under effective control.
The Rabobank report said the losses created by ASF will not be easily replaced by other proteins, nor will more imports into China be able to cover the shortfall. The disease is estimated to create a net supply gap of almost 10 million metric tons in the animal protein supply in 2019 alone.
ASF is not only present in Asia. Rather, it is spreading into Europe and is considered endemic in parts of Eastern Europe. Recent reports show the disease is circulating in wild boar populations as far west as Belgium and Italy. The World Pork Expo in Des Moines, Iowa, originally scheduled for June, was recently cancelled due to concerns surrounding potential spread of the disease, too.
Potential global protein business impacts
Due to the amount of unknowns surrounding the disease, the ability to accurately forecast the global protein market is severely affected. However, it is expected that the need for protein in China will lead to greater imports of meat from Europe, Brazil and other South American countries. The U.S. could be boosted as well, if ongoing trade disputes between China and the U.S. are resolved soon.
At the conference, Cameron Bruett, the head of corporate affairs and chief sustainability officer at JBS USA, said estimates he's seen show the Chinese hog herd shrunk by about 15 percent as of March, which represents about 7 percent of the global pork supply.
He said that should bolster the beef, pork and poultry globally as countries look to supplant that loss in production.
"We anticipate that in China as much as 20 to 30 percent of the herd could be impacted by this disease," Bruett said. "So this going to be a fundamental change."
If China loses as much of its herd as is predicted, the question is now if other countries with cost of production advantages will be able to gain a long-term foothold in the Chinese market as that country's demand for protein continues to increase through 2050.
JBS S.A., JBS USA's parent company, is a leading producer of animal protein in the world. It owns Pilgrim's Pride Corp., the second largest chicken company in the U.S.
Effect on the global grain market
At the conference, Paul Aho, an economist and consultant with Poultry Perspective, spoke about how the ongoing outbreak of ASF may affect the global grain markets. In short, less pigs means less demand for soybeans.
Because trade negotiations between the U.S. and China are continuing without a resolution in sight, and Argentina and Brazil had strong 2019 harvests, China will be able to get all of the soybeans it needs from South America.
"China will continue to import from South America," Aho said. "Not from the U.S."
That means soybean prices will be artificially low in the U.S., which is good for U.S. chicken producers, and prices will be artificially high in South America. Globally, Aho does not expect the price of soybeans to rise.
As for corn, Aho previously expected the price of corn to fall. However, flooding in the Midwestern U.S. is keeping some farmers from planting corn, which means they will plant soybeans instead. He expects that will put price pressure on soybeans and keep the price of corn higher than it otherwise would have been. However, the price of corn will not rise much but it won't fall as he once expected.
"The other thing to remember is that we're at the bottom of a long-term cycle for both corn and soybeans," Aho said. "We're at the low point and we can expect over the next 10 years to see rising grain prices."
View our continuing coverage of the African swine fever outbreak.