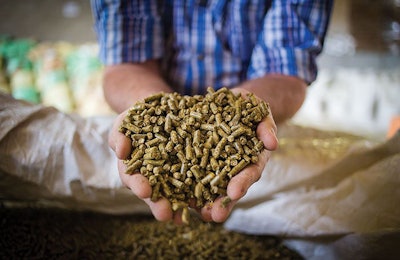 Changing consumer trends around the world will affect animal feed production in 2019, according to Mark Lyons, president and CEO of Alltech, who presented the company's 2019 Global Feed Survey on Tuesday.
The beef market is feeling the effects of a shrinking taste for red meat; the U.S. dairy market is dealing with alternative milk types; and new feed ingredients such as insect protein, bacteria and algae are entering the market.
"As we go forward, we must get closer and closer to those consumers, be listening to them, and really encompass that 'needs principle' that drives our business," Lyons said.
As the beef sector tries to overcome its reputation for poor carbon dioxide emissions, it also faces new challenges including "Meatless Mondays" and other vegetarian and vegan movements, alternative plant proteins and lab-grown meats. But at the same time, it may also have a new opportunity in China, which is still grappling with outbreaks of African swine fever (ASF) that began in 2018.
"We look at the beef market: relatively flat over a number of years," Lyons said. "Is this reflecting a shift in consumer behavior? Are consumers moving away from meat?"
In general, this may be the case, but China may be a bright spot for beef.
"In my recent visit to China, however, I heard a little bit of a different story," Lyons said. "Beef in China has had a rocky road over the past few years, but there are new reasons for optimism. As people are moving away from quantity towards quality, they're often saying they would prefer beef over other meat sources."
The dairy market faces its own consumer-driven challenges, particularly in North America, with new types of alternative milk products gaining market share.
"We see in the U.S. a lot of disruption created by new milk types of products that are coming on the market and are being picked up by consumers in the last three to five years," Lyons said.
"There are a lot of shifts, the dairy sector in particular is changing quite quickly. So it's interesting to look at the trends behind us and really what consumers are telling us about their wants and needs and how that will impact overall feed production," he said.
The survey showed a lot of growth in the dairy market is coming from South Asia, particularly India and Nepal.
In addition to those challenges, new feed ingredients such as insect protein are gaining popularity and may signal a change for feed producers.
"How are we going to assess new feed materials?" Lyons said. "These types of new materials are going to change the landscape of the way we think about feed and the way we, as nutritionists, formulate diets."
Opportunities abound in Africa
Africa saw the largest growth in terms of tonnage of feed produced, but it also continues to have the highest finisher diet prices. This is due to challenges with logistics and regulations, and high imports of feed ingredients.
Morocco saw the largest growth, with dairy, beef, layer and broiler feed production all up, and with average finisher feed costs lower than the regional average.
There was a "5 percent growth in Africa this year, which reflects, certainly, an economic growth we see in this continent, with some countries growing as much as 10 percent," Lyons said.
Africa is expected to see a population growth 8 to 15 percent in the coming years. With a shift toward greener, healthier foods and different types of protein, aqua and poultry are poised to dominate this market.
"We believe that Africa, over the next decade, will represent one of the biggest opportunities for the feed industry. And there's a lot that we can all do, globally, to really think about the African market and how it's going to change because the population growth is there, and we also know, of course, the GDP (gross domestic product) growth is there," he said.
Growth in Asia-Pacific region
The Asia-Pacific region is the largest overall producer of feed, but it is also the largest producer of aqua feed, as well as layer, broiler and other poultry feed.
China is the largest producer of feed in the world, with 187.9 million metric tons (mmt) of feed produced in 2018. Pig feed is the dominant feed production in China, even as the country tries to get ASF outbreaks under control. Pig feed grew in all regions of the world in 2018, except for Asia, where it was down 3 percent.
Feed conversion ratio (FCR) improvements "continue to change the landscape here," he said. "In some markets, feed production is not increasing because FCR is improving all the time."
Lyons said there are estimates of ASF having such an impact on the pig feed market in China that it "could actually remove 30 percent of production in 2019 to 2020."
"Even as that pork is removed from the market, we know that exports can only represent a certain percentage of the picture," he said. "We know that the Chinese market is so dominant and so large that there's very few countries that can export enough pork to make up that gap. … This will be a challenging and interesting year in the Chinese market."
India is one of the fastest growers in terms of feed production this year, which was up 13 percent. This reflects the 8 percent GDP growth in the country.
Of the total feed produced in Southeast Asia, 93.7 percent comes from four countries: Vietnam, Philippines, Thailand and Indonesia – places that "because of the large integrators that exist, feed prices are actually generally lower than other parts of Asia, 2 to 5 percent lower," Lyons said.
Southeast Asia also accounts for 30 percent of aqua feed production in all of the Asia-Pacific region.