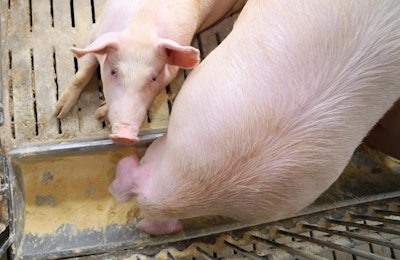 Chinese animal feed producer Tangrenshen Group said tests have ruled out the presence of African swine fever (ASF) in its products, a day after the company said pig feed manufactured by one of its business units was contaminated the deadly virus.
Tangrenshen said on Tuesday that authorities had notified its subsidiary, Bili Meiyingwei Nutrition Feedstuff, that their tests had failed to confirm the disease in the samples of raw materials or finished products that were collected last week.
The company said it has resumed normal operations.
Tangrenshen had previously said ASF was found in feed samples produced by the subsidiary during inspections after an outbreak of the disease at a farm in Anhui province and that it was investigating.
Since August, there have been approximately 50 outbreaks of the disease in various parts of the country. Although ASF does not affect humans, it is highly contagious and deadly among pigs, cannot be cured and has no vaccine.
China's Ministry of Agriculture and Rural Affairs had previously linked the country's early cases of African swine fever to the feeding of kitchen waste. The ministry has now banned the practice, which it said caused 62 percent of the first 21 outbreaks. Because kitchen waste is cheaper than animal feed, many small farmers use it to feed their pigs.
According to WATTAgNet.com's Top Feed Companies database, Tangrenshen Group controls more than 40 subsidiaries throughout China involved in feed, farming and meat processing, primarily concentrated in pork. The group owns the Camel and TRS brands of feed. The company owns 40 feed mills and produced 6 million metric tons of animal feed in 2017.
View our continuing coverage of the African swine fever outbreak.