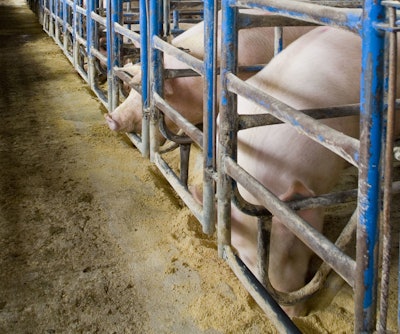 Solucionfotografica | Dreamstime.com
Eleven state governors have sent a letter to U.S. Congressional leaders urging the passage of a bill that would effectively overturn California's Proposition 12 animal welfare law.
The Exposing Agricultural Trade Suppression Act, introduced in the U.S. House of Representatives and the U.S. Senate in August 2021, would restrict state and local governments from imposing certain standards or conditions on the production or manufacture of agricultural products sold or offered for sale in interstate commerce.
A U.S. Supreme Court ruling in May upheld Prop 12, which bans the sale of pork from hogs that don't meet certain production standards. The law, which was approved by voters in 2018, establishes minimum space requirements based on square feet for breeding pigs, veal calves and egg-laying hens, and bans the sale of meat and eggs from those animals when they are raised in a way that does not comply with the minimum requirements. According to the National Pork Producers Council (NPPC), Prop 12 prohibits the sale of pork from hogs whose sows were raised anywhere in the world in pens that do not comply with the state's standards.
In National Pork Producers Council v. Ross, the NPPC had challenged the constitutionality of the law, saying it violates the Commerce Clause, which grants Congress the power to regulate trade among the states and restricts states from regulating commerce outside their borders, except for matters related to public health and safety.
"Collectively, our states represent over 54% of the country's pork production and 47% of its cattle production. We write to express our disappointment in the decision by the U.S. Supreme Court in National Pork Producers Council v. Ross," the governors' letter states. "Despite California's reliance on its fellow states for food, Proposition 12 threatens to disrupt the very system Californians depend on for their pork supply. Its strict, activist-drafted requirements for pig farming sharply depart from the practices which are lawful in our states."
Because California's pork market share is only 13%, the governors said, "it would be prohibitively expensive for producers to segregate their pork from sales to California as a market destination from those products destined elsewhere. Instead, to comply with California's onerous and unscientific requirements, pork producers will have to bear costs in the hundreds of millions (if not billions) of dollars. These costs inevitably pass through the system onto consumers, producers and workers."
The letter was signed by Iowa Gov. Kim Reynolds, Indiana Gov. Eric Holcomb, Montana Gov. Greg Gianforte, Texas Gov. Greg Abbott, Nebraska Gov. Jim Pillen, Mississippi Gov. Tate Reeves, Nevada Gov. Joe Lombardo, Virginia Gov. Glenn Youngkin, Arkansas Gov. Sarah Sanders, Missouri Gov. Mike Parson and Oklahoma Gov. Kevin Stitt.