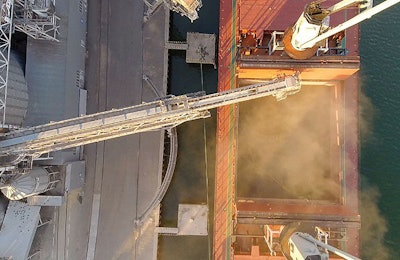 Normally, John Bobbe would have complained about the mysterious ship that delivered what it claimed to be organic grain in North Carolina late last month. But there was no one available to investigate his complaint that the ship had not identified the grain's nation of origin.
Routine inspections of organic imports and producers continue, but deeper investigations and the development of new rules designed to prevent fraud have come to a complete standstill since federal funding for the U.S. Department of Agriculture's (USDA) National Organic Program, along with many other U.S. government agencies, lapsed on December 22. With authorities now directing government agencies to plan for a shutdown that could span several months, industry leaders are worried the political feuding could undo years of progress on organic fraud detection.
Concern is especially high among organic livestock producers such as those represented by Bobbe's Minnesota-based farmers' cooperative, OFARM. Grains fraudulently labeled organic can be difficult to track once they enter the supply chain, Bobbe said, so early detection is key, because fraud has cost downstream organic producers $500 million in losses over the past three years.
'Momentum has stopped'
By now, Bobbe said, the suspicious ship in North Carolina has long since unloaded its wares — likely either corn, soybeans or a mix of both. But it's not just the fraud that could occur during the present lapse of oversight that has Bobbe worried. It's also the ground he suspects the industry will lose on fraud prevention.
Ashley Swaffer, an organic farmer from Arkansas and a member of the National Organic Standards Board that advises the USDA, shares his concern.
"I would say, for the next couple years, we could see an impact just because momentum has stopped on all work," she said. "The National Organic Program has done some good work on fraud prevention, and it's just stopped. There's nobody there."
In the weeks prior to the U.S. government shutdown, the National Organic Program had received congressional direction to draft new regulatory measures aimed at curbing organic fraud and ending exemptions for certain international imports — issues that have become especially concerning to organic livestock producers. But with no staff on hand, the drafting process has come to a standstill, and a congressional deadline set for December 2019 has begun to loom large.
"Twelve months to develop a new regulation is lightning speed in government time," said Laura Batcha, CEO of the Organic Trade Association. And with six weeks already lost to the shutdown, she said, 10 percent of the allotted time is already gone.
Members of the board set to review the new standards are determined to meet the deadline. The board planned to begin reviewing staff recommendations as early as April, and Scott Rice, a USDA-accredited certifying agent and manager within Washington State's Organic Program and a member of the National Organic Standards Board, said he remains optimistic that the board will meet in April.
But that's dependent on the availability of USDA staff, who have to publish the meeting materials in the Federal Register in time for public review; board members are supposed to submit those materials to USDA in February. If the materials aren't published in time, the meeting will be canceled and discussion of the new standards postponed until the next gathering of the board.
"I remain confident [the shutdown] won't scuttle the process," Rice said. "It has just slowed it down. But there is concern, across the industry, that the rulemaking happen as soon as possible, and without staff there, there is no one working on it."
Training lapses
In the meantime, the USDA has already withdrawn from an annual training for organic certifiers, where the agency was set to present on best practices for fraud prevention, according to Rice. He hopes the USDA will reschedule, offering perhaps a remote webinar, so that certifiers will not go an entire year without direct interaction with the USDA.
The situation has intensified industry discussion about further privatization of organic oversight, according to Batcha. Industry leaders who were already frustrated with the current administration's "sluggish approach to developing standards" have begun to invest in an Organic Trade Association-led quality assurance program aimed at preventing supply chain fraud.
While the shutdown did not spur these conversations, Batcha said, federal inattention to the organic program has added to the association's suspicion that organics simply aren't a priority for the U.S. government.
The longer the shutdown drags on, she said, the more apparent it becomes that choices about which programs continue operating are "political."
"The pain of the shutdown is accentuated in areas that don't have political support from USDA," Batcha said. "They'll find ways to get [Farm Service Agency] offices open, but we're not seeing any relief on the organic side."