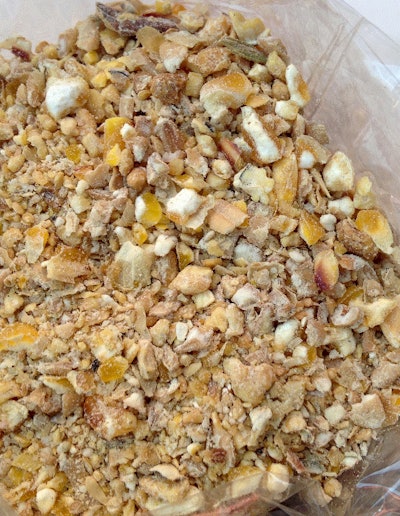 International group endorses document on testing approaches and data
The International Cooperation for Convergence of Technical Requirements for the Assessment of Feed Ingredients (ICCF) Steering Committee has endorsed the guidance document on Homogeneity Testing of Feed Ingredients.
The document "provides guidance regarding the homogeneity testing approaches and data to be included in a pre-market approval or authorization application for feed ingredients," it says. "While this guidance supports the acceptability of the testing protocol, applicants are advised to consult the appropriate regulatory authorities or their guidelines during the development phase of new feed ingredients or a new uses of an authorized feed ingredient. This will help to determine whether the testing described herein is acceptable, or if the testing is needed for a specific pre-market approval or authorization."
Homogeneity tests should be performed to evaluate whether active feed ingredients are uniformly distributed in the feed, to ensure animal health and the desired effects of feed ingredients are achieved.
The guidance document describes the approaches that should be taken to homogeneity testing, sampling methods, special considerations, among other information.
The document was finalized at ICCF's meeting in September, after a public consultation and takes into account stakeholders' comments.
It is the outcome of the work of the Expert Working Group, composed of dedicated regulatory authority and industry experts from the founding members. The Expert Working Group developed an initial draft guidance document, built on consensus between the experts and supported by scientific publications. This draft was submitted to public consultation for a one-month period in October 2019. Comments from regulators, academia and industry from different regions of the world were received and considered. The Expert Working Group finalized the guidance document in July 2020 and submitted it to the ICCF Steering Committee for endorsement.
The ICCF was created in 2017, and was founded by regulators from the United States Food and Drug Administration (FDA), the Canadian Food Inspection Agency (CFIA) and the European Commission (DG SANTE) and industry members from the American Feed Industry Association (AFIA), the Animal Nutrition Association of Canada (ANAC), the EU Association of Specialty Feed Ingredients and their Mixtures (FEFANA) and the International Feed Industry Federation (IFIF). The ICCF aims to develop science-based technical guidance documents supporting the feed industry in assessing their products and to aid in the preparation of pre-market assessment submissions.