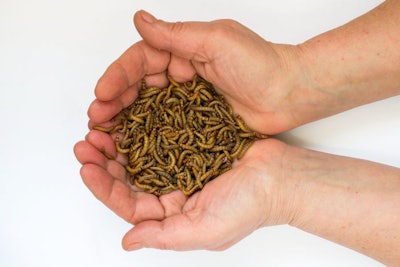 UK's Innovation agency awards Entec Nutrition GBP250,000 to study ideal mealworm substrate
While some researchers aim to study animal feed, a team of scientists from the U.K. plans to go one step deeper this coming year to study the importance of the feed-within-a-feed — more specifically, mealworm substrate.
Entec Nutrition, a U.K.-based company focused on growing mealworms for use in animal feed, has received a GBP250,000 (US$321,500) grant from Innovate U.K.'s transforming food production program — money the company plans to use to determine how to raise mealworms that will themselves contain the best nutrition profile. The work will focus on using byproducts from other food industry sectors, "therefore embracing circular economic principles and making our products more sustainable," according to Olivia Champion, founder and CEO of Entec Nutrition.
The yellow mealworm typically has a desirable nutritional profile for use in animal feed, proving to be a good source of amino acids, fats, vitamins and minerals, Champion said. Entec Nutrition believes the mealworms could be used to replace conventional proteins in diets for multiple species, and that insect meal could outperform soybeans and even fishmeal in diets for trout, pigs and poultry, among other species.
Insect meal could also come with a host of other benefits, potentially offering an alternative to fishmeal, the production of which has stagnated. Insects could also be used to replace soybean meal, which contributes to deforestation and to the overall emissions footprint attributed to animal agriculture. In addition to these benefits on the sustainability front, Champion believes the insects could come with a potential financial upside for the feed industry and for producers.
"Insects can be produced consistently," Champion said, "protecting the sector from the price fluctuations that are common within the soymeal and fishmeal markets."
Entec's research team, which will include scientists from Campden BRI and the University of Exeter, will explore ways in which the mealworm's own diet could be modified to create products best suited to the species that may consume it. Different diets could, for example, affect the protein profile of the finished mealworms. The results will not only influence product development within Entec and the broader feed industry, Champion said, but should also help the budding insect meal sector improve the efficiency of its own operations.
The study's results are expected to be complete by the end of August 2021.