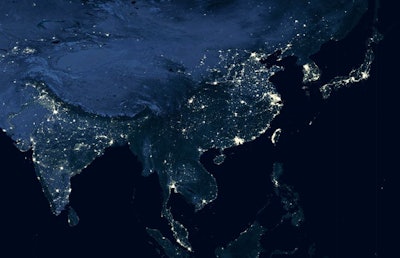 Rabobank report says the region's aquaculture industry remains an attractive one for investment
By increasing its focus on feed formulation, research and development, and sustainability, Asia's aquafeed industry can overcome its challenges and see success, according to Rabobank.
In its new report, "Swimming in a Crowded Market: Opportunities in Asian Aquafeed Industry Remain," Rabobank said the region's aquafeed industry faces challenges including disease and overcapacity, but it is still an attractive market for investments due to its increasing industrialization.
Despite the many challenges faced by the Asian aquaculture industry, Rabobank said industry players are "in a good position to benefit from downstream dynamics and reach new levels of sophistication. Balanced nutrition, a sound business model, regional cooperation and sustainability are essential for success in the Asian aquafeed industry."
The report said more attention needs to be put on feed performance and biosecurity, rather than just low feed costs.
Asia's aquafeed industry is developing more functional feed formulations, and research in this area will be the "key factor for success," Rabobank said.
"Novel feed additives used in functional feed can offer specific functionalities, such as improving liver and gut health, preventing viral and bacterial pathogens, bringing color and sensory characteristics, extending storage shelf life, substituting for antibiotics, and replacing existing ingredients with more cost-effective ingredients," the report said.
Better sustainability, fish meal alternatives needed
Overuse of antibiotics in Asia's aquaculture industry is a problem and hinders export opportunities to the EU and U.S. However, trade within Asia has been increasing.
"Investment in advanced water circulation and treatment systems, novel feed formulations and vaccines, and other farming practices will enable safer and more sustainable aquaculture production," Rabobank said.
Global fish meal production is expected to grow only 1% by 2030, so alternative protein sources are needed, including animal protein, plant protein, insect meal, algae and microbial proteins.
Raw materials account for more than half of aquafeed production costs. Producers have sought to lower these costs by reducing the percentage of fish meal and fish oil used and turning to alternative protein sources.
"Innovative use of raw materials is an effective way to reduce dependency on fish meal and to lower costs," the report said. "The biggest challenge is replacing fish meal without sacrificing the growth performance of certain species at different growth stages."
One solution to this challenge is feed formulation developed to fit the needs of different species at each life stage.
Aquafeed producers have reduced the fish meal inclusion rate in shrimp feed to below 40%, but "there is potential to further reduce the fish meal inclusion rate in shrimp feed formulation," Rabobank said.
Rate of growth slowing
Aquaculture production in China, Southeast Asia and India is expected to grow at a slower rate through 2030 – 2.3% vs. 5.4% from 2000 to 2018 – due to enforcement of environmental regulations, reduced availability of water and suitable production locations, increased aquatic animal disease outbreaks, and slowing productivity gains.
Similarly, aquafeed production growth in the region is expected to slow to 3.2% through 2030, compared with 5.4% over the past decade. Compound annual growth rate in China is expected to be 2.5%, 4.5% in Southeast Asia and 3.5% in India.
In 2018, nearly 90% of global aquaculture production came from Asia – 58% from China, 15% from Southeast Asia and 8.6% from India. Through 2030, China's share is expected to fall while Southeast Asia and India's combined share will rise to 25.5%.
In 2019, the aquafeed industry growth in China was driven by freshwater fish feed; in India, shrimp feed was the major driver.