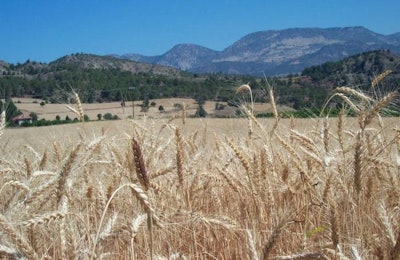 Wheat is now a more economical animal feed ingredient than corn in several U.S. states — a unique circumstance that has only occurred a handful of times in recent years, according to an analyst with U.S. Wheat Associates.
Claire Hutchins, a market analyst at U.S. Wheat Associates, said she's spoken to feed lot managers in Texas who have begun to select winter wheat over corn due to inverted prices, with corn in that state going for an average of $4.46 per bushel, and wheat running $4.27 per bushel as of July 30. And she said she doubts that Texas is the only state where wheat has become a more economic feed ingredient than corn.
In Kansas, Hutchins said, corn is averaging $4.02 per bushel, while wheat costs $4.12 per bushel, a tight spread that may have some producers opting for wheat over corn, depending on species. In cattle, Hutchins said, wheat becomes an attractive feed ingredient when the difference between corn and wheat prices averages less than $1; poultry requires a tighter spread, often as little as 10 cents.
The spread in many states has become so tight, Hutchins said, that she would not be surprised if producers are feeding poultry and cattle wheat — and she said she expects the trend to continue for at least several months.
U.S. corn prices have been rising steadily since May due to late planting triggered by flooding in the Midwest, which has led to concerns about decreased acreage and poor yields this year. But while supply pressure helped to close the gap, wheat prices were also rising steadily up until early July, when strong yields began to suggest a larger-than-average winter wheat crop this year.
"In July, red winter wheat prices fell pretty sharply as the harvest took off," Hutchins said, causing the price of wheat to fall below the fluctuating value of corn in some states.
Hutchins said market signals suggest the trend will last several months, but it's unlikely that the inversion will persist forever. Outside the 1920s, Hutchins said corn prices have only exceeded wheat in the U.S. during the harvest years of 2012-13 and 2016-17.