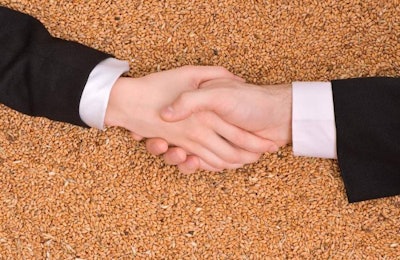 U.S.-based grain companies Cargill and Archer Daniels Midland (ADM) have agreed to a deal to trade some of their grain elevators in the Midwest.
Cargill will sell its facilities in Mount Vernon and Evansville, Indiana, to ADM. Both elevators are along the Ohio River. At the same time, ADM will sell its elevators in Beardstown, Naples and Keithsburg, Illinois. All three of those facilities are along the Illinois River.
The elevators buy grain and soybeans and load river barges destined for the Gulf Coast.
The terms of the deal were not disclosed.
In an emailed statement to Reuters, ADM spokesperson Jackie Anderson said: "We regularly evaluate our portfolio to ensure that our businesses and assets best fit our strategy to maximize long-term returns. Cargill's Mount Vernon and Evansville, Indiana, elevators are a great fit for our origination networks.
ADM, in its most recent quarter, reported net earnings of $233 million, but the operating profits were negatively impacted by about $60 million due to extreme weather conditions. ADM recently opened a livestock feed facility in Quincy, Illinois, making it one of six ADM locations in the Quincy area. Earlier in 2019, the company acquired Neovia, but several months later announced that it would eliminate 127 jobs in France.
Meanwhile, Cargill, in its most recent quarter, also reported challenging conditions, in which its net earnings were $235 million, a drop of 67 percent when compared to the same quarter of the previous fiscal year. In late June, Cargill announced it is acquiring Beckers Indústria de Nutrição Animal Ltda., a Brazil-based swine feed producer.
According to the Feed Strategy top companies survey, Cargill is the third largest animal feed company, and the largest of those based in the United States, with 257 feed mills and an annual feed production of 19.6 million metric tons.