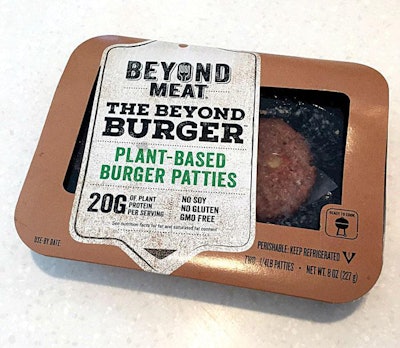 From WATTAgNet:
See what topics were the most popular in the animal feed industry in December.
The week of the 2016 Biomin Nutrition Forum, Tyson Foods announced its investment in a 5 percent stake in plant-based protein startup, Beyond Meat, the manufacturer of the Beyond Burger meatless patty. Coincidentally, the event's presentation, "Driving the Protein Economy: Unprecedented Challenges and Opportunity," by Dr. David Hughes, professor at the Imperial College London, addressed the very real threat plant-based protein alternatives pose to animal agriculture.
Environmental risks outweigh the benefits of zinc oxide to prevent diarrhea in pigs, the European Medicines Agency (EMA) has ruled. The decision, made last week by the EMA's Committee for Medicinal Products for Veterinary Use (CVMP), may bring the prospect closer of a ban on the use of products containing zinc oxide in pig feeds in the EU.
A single diet offered during the early hours of the light period with some source of calcium top-dresses during the afternoon is the standard feeding program for layers worldwide. A new method has been proposed that adapts the normal behavior of the hen to the requirements of modern farming.
Some agriculture groups are supportive of President-elect Donald Trump's pick to lead the Environmental Protection Agency (EPA), while others are voicing their concerns. Trump has selected Oklahoma Attorney General Scott Pruitt, a critic of the EPA, a skeptic of climate change, and an opponent of the Renewable Fuel Standard.
During EuroTier last November, I was invited to a press conference regarding the activities of a new nutrition company. Among the many products and services presented, some of which gave me excellent insight on the future of the nutrition business, I noticed something of a paradox.
Cereals are a major energy source for pigs and poultry. Learn why particle size evaluation is a necessary component of a feed quality assurance program.
South Korea's largest food company, CJ Cheiljedang Corp. (CJ), has opened two new animal feed mills in Indonesia in the latest phase of its expansion across Southeast Asia. According to news agency Yonhap, this brings to 12 the company's feed mills, with a total annual capacity of 2.8 million metric tons.
China plans to increase its animal feed output to 220 million tons by 2020, according to the Ministry of Agriculture's 13th five-year plan for 2016-20. According to Alltech's Global Feed Survey from 2015, China was the world's No. 1 producer of animal feed in 2015, with 179.93 million metric tons.
Alltech, a global animal health and nutrition company, has acquired Solbiosur, a specialized agricultural and horticultural crop solutions company in Spain. Solbiosur is well regarded in Spain as being a provider of innovative agricultural and horticultural solutions dedicated to improving yield and efficiency for the producer.
Not long ago, diets for monogastric animals were formulated based on total phosphorus. We were aware of the value of available/digestible phosphorus, but in simple diets based on corn or wheat and soybean meal, it made little difference which form of phosphorus specification was used.