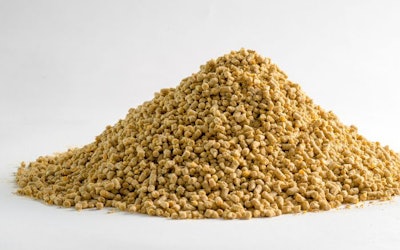 Company's mills produce 'a huge proportion' of the UK's pig and poultry feed
Approximately 150 feed mill workers employed by AB Agri in the United Kingdom (U.K.) will strike over pay in April, according to the Unite union.
The union said strike action will occur from April 1 through April 7. "Work to rule," where workers do no more than the minimum required by their contract or job, will be in effect from April 8 to April 14 before "all-out indefinite strike action" begins on April 15. The union had said in February that the strike action was a possibility.
The workers, based at mills in Bury St. Edmonds in Suffolk, Walsingham in Norfolk, Flixborough in Lincolnshire, Sherburn in North Yorkshire, Cupar in Fife, Enstone in Oxfordshire, Cullompton in Devon and Fridaythrope in East Yorkshire, rejected a proposed pay increase of 4.5%.
Feed production at AB Agri's mills, which produce "a huge proportion" of the U.K.'s pig and poultry feed, will be disrupted by the strike action.
For the past few months, the U.K. has been experiencing a series of strike actions. These have affected the health service, railways and others, and are linked to the recent rapid rise in the cost of living.
In June 2022, members of the same union were involved in threatened strike action at a Moy Park feed mill in Northern Ireland.
More on AB Agri
AB Agri operates across the entire feed industry supply chain, according to the company website. As well as compound feeds, it supplies feed enzymes, specialized feed ingredients and a range of value-added service to farmers, feed and food manufacturers, processors and retailers.
Since its foundation in the U.K. in 1984, the firm has grown and now has more than 3,000 employees across the world.
AB Agri covers the agriculture operations of Associated British Foods (ABF). The parent company's other businesses are in the grocery, sugar, ingredient and retail sectors.
In its latest full-year fiscal results, ABF reports revenue in 2022 at more than GBP1.72 billion (US$2.08 billion). Compared with the 2021 figure of almost GBP1.54 billion, the year-on-year increase was 12% (at constant exchange rates). Trading performance by AB Agri was described as "strong." Higher feed prices reflected commodity inflation, according to ABF. AB Agri's profit last year was higher by GBP3 million at GBP47 million. However, the margin for this operation dipped slightly from 2.9% in 2021 to 2.7% in 2022.
With annual feed production amounting to almost 2.23 million metric tons, AB Agri is just below the Top 10 feed companies in Europe in terms of output. This is according to Feed Strategy's Top Feed Companies latest survey for this region. The source indicates that AB Agri is the largest feed producer in the U.K.