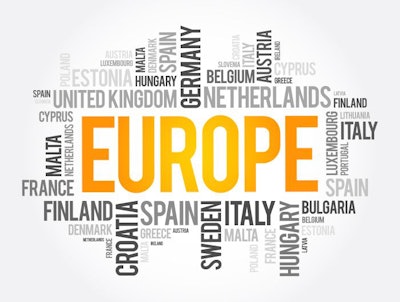 After another decline in the national pig population hits overall feed production in Germany, the industry association is calling for guidance to ensure future security for the sector and the wider food chain.
Germany's feed industry association is calling on politicians for guidance on how the nation's food chain should be adapting to economic challenges.
From feed manufacturers to consumers, food costs affect everyone, said Cord Schiplage, president of the German association for animal nutrition, DVT. Across the food chain, businesses are looking to those in power to generate and communicate clear and long-term political perspectives. With this guidance, the various stakeholders can help to create resilience in the food chain and a secure economic future.
For animal agriculture, this framework will provide support to maintain high standards of food quality and safety, as well as animal care and well-being. As the link between crop and animal production, the feed sector has an important role to play in the future of the food chain, according to Schiplage.
2 years of contraction in German feed output
At approximately 22 million metric tons (mmt), total feed production in 2022 was 1.4 mmt, or 6% lower than in 2021, according to the latest DVT data. This was a second consecutive year of contraction for the industry.
While attributing this trend to various economic factors, Schiplage said that the main driver was a decline in farm animal numbers in Germany. This was particularly marked for the national pig population. At 9.7 million, the number of fattening pigs in the country in November 2022 was 11.6% lower than 12 months previously.
Last year, there were 281 compound feed manufacturers in Germany — six fewer than in 2021.
Nationwide sales of all compound feed rose from EUR8.3 billion (US$8.94 billion) in 2021 to around EUR10.5 billion last year, according to DVT figures. Furthermore, feed ingredients and mineral sales accounted for EUR12.9 billion.
Latest figures recently published by the European feed manufacturers' association, FEFAC, are for calendar year 2021.
In that year, total industrial feed production in Germany was 23.55 mmt, according to this source. This was 3.1% less than for the previous 12 months. For the main farm animal species, the nation's overall output of feed for swine was 9.41 mmt, for cattle was 7.02 mmt, and for poultry was 6.35 mmt. Compared with 2020, these figures represent year-on-year reductions of 4.4%, 3.2% and 1.6%, respectively.
Global feed production trends
Between 2020 and 2021, EU compound feed production — excluding Greece, Luxembourg and Malta — declined by 0.17% to 150.3 mmt, according to the FEFAC report.
With an output volume totaling just over 25.56 mmt, Spain was the leading feed producer in 2021.
The only segment registering a significant increase was for the "other" category, which rose 3.3% year-on-year. This covers sheep, goats, fish, horses and rabbits.
EU-wide tonnage of pig feeds was down 1.06% year-on-year. For cattle and poultry, the changes were very small but positive.
Worldwide, feed production in 2022 amounted to 1.266 billion metric tons, according to Alltech Agri-food Outlook 2023. This equates to a drop of 0.42% compared with 2021.
For the Asia region, total production contracted by just 0.51%, according to the same source. The drop is attributed mainly to outbreaks of disease such as African swine fever in domestic and wild pigs, and avian influenza in poultry and other birds. Despite a 3% year-on-year reduction in output volume last year to just under 261 mmt, China remains the world leader in animal feed production.