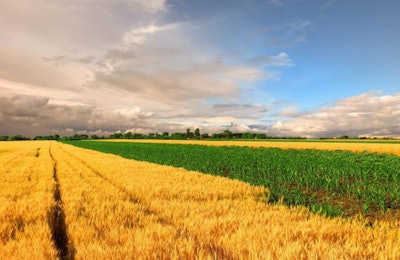 Temperatures across the U.S. in the first six months of the year were 3.4 F above the 30-year average, and some regions endured floods while others experienced drought-like conditions. All these factors affected mycotoxin levels in corn, wheat and barley, according to Neogen's 2017 Capstone Report.
Overall, precipitation across the country was 17 percent above average, the report said. Temperatures were near normal in most areas, although the Plains and Western U.S. saw temperatures well above average.
In June, very dry conditions were observed in Illinois, Iowa, Nebraska and Colorado, Neogen said. July brought dry conditions to the Western Corn Belt and the Northern Plains.
Two devastating hurricanes hit in August, dumping massive amounts of flood-causing rain on the Gulf states and bringing elevated rainfall levels throughout the South. Meanwhile, drought-like conditions lingered in Iowa and South Dakota. The southern states and parts of the Upper Great Lakes region experienced above-normal rainfall.
Mycotoxin reports for barley, wheat and corn
Barley and wheat reports for (deoxynivalenol) DON were very widespread across the country. Reports of DON in barley came from Pennsylvania. Reports of DON in winter wheat came from Georgia, Alabama, North Carolina, Virginia, Maryland, Tennessee, Missouri, Texas, Oklahoma, Kentucky, Arkansas, Kansas, Ohio, New York, Wisconsin and Minnesota.
A wide variety of toxins were found in corn across the U.S.
Fumonisin was found in Texas, South Dakota, North Carolina, Tennessee, Alabama, Oklahoma, Kansas, Missouri, California and New York.
Aflatoxin was detected in Iowa, North Dakota, Georgia, Texas, Alabama, Oklahoma and Kansas.
T-2 toxin was found in Texas, South Dakota, New York and Wisconsin.
Zearalenone was found in Iowa, Mississippi and New York.
DON was detected in New York, Pennsylvania, Texas, Nebraska, Wisconsin, Kansas, Iowa, South Dakota and Minnesota.
"Mycotoxins are impacted most by weather during the growing season," Neogen said in a previous report. "However, harvest timing, crop moisture management and storage methods also play a part in toxin growth."
The big three risks for mycotoxin development, according to Neogen, are:
Aflatoxin in drought areas
Fumonisin from excessive rains
Early frost to immature corn for DON