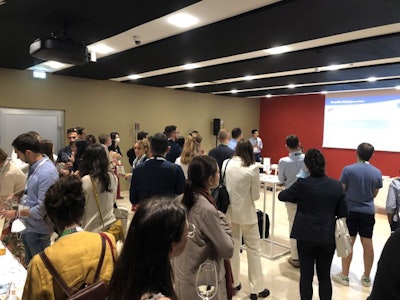 Current mycotoxin management strategies, like mycotoxin binding, are not delivering foolproof results
More than 50 university students and young professionals, along with "young at heart" academics, consultants and industry professionals, convened for the inaugural Young Scientist Forum on May 19, following the World Mycotoxin Forum in Parma, Italy. The event was hosted by Trouw Nutrition, Nutreco's livestock feed business. Feedback from participants will help inform and steer future areas of mycotoxin research.
During the forum, participants explored the health and performance challenges caused by mycotoxins, and the discussion placed a special emphasis on the socioeconomic consequences that mycotoxin contamination inflicts on low-income households. The aflatoxin M1 challenge affecting producers in Africa is a good example of mycotoxins' devastating effects.
Climate change was also part of the conversation, as weather and temperature conditions can increase the growth of mycotoxigenic fungi and lead to multiple mycotoxins synthesis. As participants discussed the complexity of today's mycotoxin environment, it became very evident that management strategies rooted in a single mode of action – such as mycotoxin binding – cannot deliver sufficient protection. Integrated approaches based on multiple modes of action, including binding, gut health support and immune modulation can deliver a more effective approach to management and mitigation efforts.
During an open-mic professional development session, experienced professionals and students discussed post-Ph.D. career paths. Researchers, academics and corporate representatives shared their career experiences and encouraged students to explore the diverse career paths and opportunities continually unfolding for young scientists.
Abimbola Oluwakayode, a Ph.D. candidate at Cranfield University in the U.K., remarked on participating in the first Young Scientist Forum. "A main advantage was to have the opportunity to learn from more experienced industry professionals. The event was a great way to talk about what to do after university and see what research is ongoing."