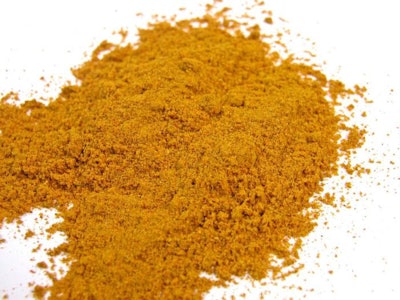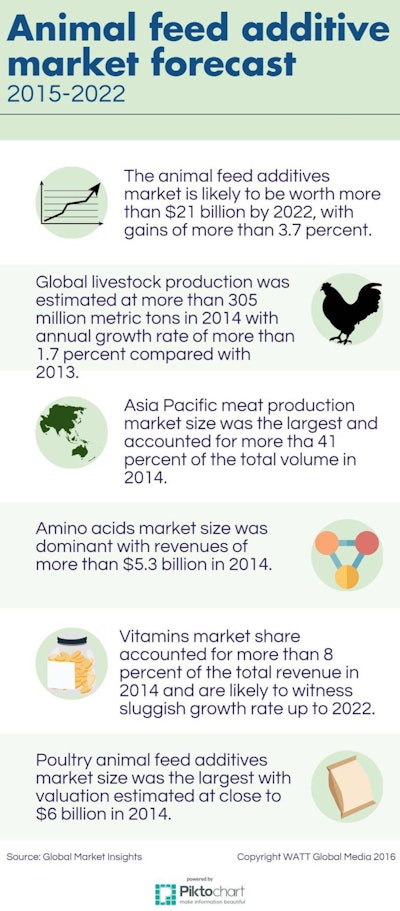 The animal feed additives market is likely to be worth more than $21 billion by 2022, with gains of more than 3.7 percent, according to a new report from Global Market Insights.
Growth in livestock production such as swine, poultry and cattle for meat consumption as source of protein is likely to drive animal feed additives market size. Global livestock production was estimated at more than 305 million tons in 2014 with annual growth rate of more than 1.7 percent compared with 2013. These products are important growth elements required for proper metabolism and appropriate weight gain. They also increase the performance by delaying fatigue.
Rise in disposable income levels and population growth in Asia Pacific and Latin America is likely to drive meat consumption growth over the forecast period, thereby pushing animal feed additives demand for livestock production. Asia Pacific meat production market size was the largest and accounted for more than 41 percent of the total volume in 2014. North America and Europe accounted for more than 14 percent and 18 percent of the total meat production for the same year.
Standardization of meat products owing to disease outbreaks such as SARS is likely to favor animal feed additives market share. Additives such as antibiotics, amino acids and antioxidants tend to increase immunity level towards diseases. However, antibiotics growth promoters (AGPs) used in livestock production are becoming limited due to public health concerns over development of antibiotic resistance in zoonotic pathogens.
EU has already put a ban on AGPs from 2006. The U.S. has allowed certain antibiotics use until the end of 2016 and after this AGPs will be banned in feed. This factor is likely to challenge animal feed additives market size growth. Manufacturers are focusing to develop products based on plant extracts such as amino acids and phytogenics. These products are gaining wide acceptance in public domain owing to increasing health awareness.
Product insights
Amino acids market size was dominant with revenues of more than $5.3 billion in 2014 for animal feed additive industry demand. Amino acids such as lysine, methionine, thrionine and tryptophan are important in livestock production. Lysine, a major amino acid consumed worldwide for livestock production is particularly used for swine and poultry application. Industrial lysine also has advantages over its natural substitutes, especially soybean.
The feed enzymes market is also expected to be a strong growth avenue for participants and is likely to capture significant animal feed additives market share by 2022.
Vitamins market share accounted for more than 8 percent of the total revenue in 2014 and are likely to witness sluggish growth rate up to 2022. They are used in cases where the livestock are deficient and the natural vitamins present in the food prove insufficient. Majorly used vitamin additives include Vitamin A, D, E, K and riboflavin and these are added as supplements to improve and maintain subject health.
Livestock insights
The poultry animal feed additives market size was the largest, with valuation estimated at close to $6 billion in 2014. Poultry applications are likely to witness rapid gains during the forecast period. The outbreak of avian influenza not only surged demand for quality meat, but also increased awareness about poultry health and care, bringing in stringent regulations, which fueled animal feed additives market growth.
Pork production application accounted for more than 27 percent of the total revenue share in 2014. Increasing concerns over meat quality and safety is likely to drive demand for pork production. However, this application is likely to witness average gains during the forecast period, owing to bans on pork meat production and imports and religious causes in countries such as Saudi Arabia, United Arab Emirates, Qatar, Bangladesh and Pakistan.