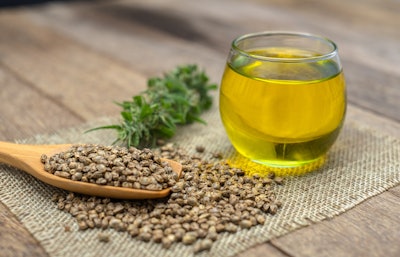 Kanjana Kawfang | Bigstock.com
Novel ingredients like insect meal may be the way of the future for aquafeed, but hemp is here now, according to the founders of United Kingdom-based startup Rare Earth Global.
The company recently received a GBP262,525.20 (US$333,273.38) grant from the U.K. Seafood Innovation Fund to continue trialing its hemp-based aquafeed in Atlantic salmon. Results from an early — but small-scale — feeding trial suggest hemp may be more digestible than soy in aquafeed, according to Rare Earth chief technology officer and co-founder Suneet Shivaprasad. Longer trials are needed to confirm their findings so the company can commercialize its product, ideally in the next few years, Shivaprasad said.
Shivaprasad and his co-founder, Rare Earth CEO Jamie Lewis, began working with hemp and cannabidiol (CBD) about five years ago, spurred by their mutual interest in the product's use as a vegan protein and for pain relief. As they got deeper into the industry, Shivaprasad said, they began to realize that CBD production created a large amount of waste biomass. At the same time, he said, they were also hearing about how demand for soy for animal feed was driving deforestation in the Amazon.
But it wasn't until about two and a half years ago, Shivaprasad continued, that they began to look seriously at hemp as a possible ingredient in aquafeed after hearing stories of recreational fishers using hemp seed as bait.
The company has since run some limited trials testing hemp seed meal, subjected to some proprietary processing, as a one-to-one replacement for soy in Atlantic salmon. The results, Shivaprasad said, suggest the hemp protein is highly digestible and highly palatable.
The company will run its next two-week trial of the feed this year, and next year will run a more intensive, two-month-long feeding trial in conjunction with University of Stirling's Institute of Aquaculture.
The hemp-based ingredient should be cost competitive for use in aquaculture diets when the company reaches scale in two to four years, Shivaprasad said. But in order to make this happen, he said, the company will need to sell the plant biomass as well as the seed from the hemp the grow — though they have a plan in place to sell the biomass into the construction industry for use making concrete.
That means, unlike some other novel proteins, Shivaprasad said, hemp should be ready for market almost immediately in places where feeding hemp to animals is legal, such as the U.K. and the European Union. Rare Earth expects to begin some limited sales of its product next year.
But the long-term plan, Shivaprasad said, is to license the production and processing technologies developed by Rare Earth to other hemp and feed companies.
"It's going to take a bit of time to move things along and start getting scaled product to market, but we do feel that this crop can support existing supply chains in a more sustainable fashion," Lewis said. "This is a beautiful time where planet and profit can come together, and that's where hemp really stands out. You don't have to compromise one or the other. There is opportunity for both."