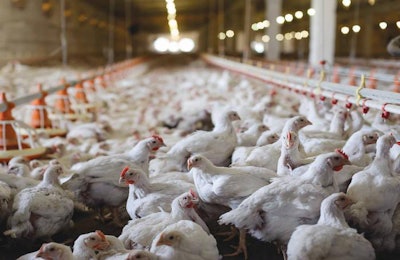 Demand for — and supply of — feed additives that claim to replace antibiotic growth promoters has increased rapidly in recent years. But the science hasn't kept up with the market, experts say.
"When presenting this point at meetings, I have always stated that, in spite of the commendable and considerable investment in research on this topic, no feed additive to date has shown a statistically significant effect on disease severity or incidence," said Marcus Kehrli, director of the U.S. Department of Agriculture's (USDA) National Animal Disease Center. "In defense of the feed additive industry, it is a very heavy lift for a nonantibiotic feed additive to have a sufficient impact on the immune system to in turn beneficially impact the health of the animal."
Most experts agree that none of the products on the market replicate the actual antimicrobial action of antibiotic additives. But products claiming to otherwise improve animal health have begun to saturate the feed additive space, and reports of success using the products are a dime a dozen, according to Alex Ramirez, an associate professor of production animal medicine at Iowa State University.
"The challenge is, in the field, a lot of people are using certain products but have no clear data that they're sharing, or have good comparison groups," he said. "It's all more a hearsay — people saying I used this and my chickens are growing faster. But there's not a lot of published data to prove it."
Ramirez works with an animal science group that has evaluated a variety of alternative growth promoters — probiotics, prebiotics, different fatty acids and fibers, all manner of ingredients — to determine which, if any, pass scientific muster.
"There are some that just aren't reasonable," he said, "but I do think there are some products that work. How well they work, that's the part we still just don't know."
Certain essential oils, in particular, showed promising results, Ramirez said, as do zinc and copper. But even these more effective products, Ramirez said, showed a positive health outcome in less than half the studies he evaluated.
"I don't think that any of these products are going to be like an antibiotic, which would have a consistent, immediate effect," he said.
This hasn't stopped marketers from making claims beyond the capabilities of some products, Ramirez said.
"One of the challenges is that these compounds are not regulated," Ramirez said. Claims of antibiotic-like properties "don't have to be verified, because they don't go through the approval process like so many other things."
But that could soon change, and customers are catching on. Francesca Blasco, vice president of products and innovation at Dr. Eckel Animal Nutrition, made similar predictions while speaking at VIV Asia about phytogenics, a class of organically derived ingredients often advertised as alternatives to antibiotic growth promoters. "What I observe is we're asked more and more what is in the product," she said. "Our customers don't want to buy black boxes. It's very important to understand the science behind phytogenics. What are the additives? What can we expect?"
The feed additives industry, Blasco said, must invest in "trials, trials and more trials."
Once a health effect is established, Blasco said, manufacturers must turn their attention to the quality of the product to guarantee consistency to avoid products that work one day, but not the next.
"One of the negative aspects that phyotgenics bring with them is the fact that the results are not consistent," she said.
Standardization of so-called antibiotic alternatives is a growing concern, agreed fellow panelist Jan Dirk van der Klis, head of products and innovation at Delacon Biotechnik GmbH. More attention is needed among manufacturers in evaluating the stability of these additives, both during processing and storage, as well as with safeguarding the supply chain to ensure consistency.
The variability of the products, as well as differences in the field conditions where they are tested, makes it difficult to determine whether a growth promoter is truly ineffective, or whether it only works under very specific circumstances.
"A lot of these products work under certain conditions," Ramirez said, "and sometimes because of marketing, they get sold for all conditions."