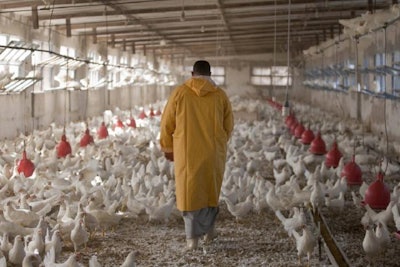 It's not just the public that hopes to see better livestock management practices. Manufacturers of feed additives say improved husbandry is also a key component of replacing antibiotic growth promoters.
"Feed additives cannot compensate for" herd management, Jan Dirk van der Klis, head of products and innovation at Delacon Biotechnik GmbH, told an audience at VIV Asia in March.
Feed additives that aim to replace antibiotic growth promoters — a wide category of additives that can include trace minerals, fatty acids and essential oils — don't typically kill the bacteria themselves, Dirk van der Klis said. Some additives improve the animals' ability to access nutrients, while others may reduce inflammation or neutralize toxins. Most, he said, cannot perform optimally without careful consideration of other factors, such as the quality of an animal's feed, water and living conditions.
"We need to think about immunity," fellow panelist Plinio Barbarino, head of product management at BIOMIN, agreed. "We need to reduce the challenge on the animal. We need to give them a better chance to develop … this is key if you want to have success using different additives."
Rather than simply experimenting with new feed additives, Dirk van der Klis said, producers must become much more critical of the ingredients in their standard feed of choice. Undigested protein in the intestines, for example, can cause symptoms once masked by antibiotic growth promoters. Other irritating ingredients may lead to inflammation in the gut, which may inhibit digestion and nutrient absorption.
"What we are seeing with intestinal problems, the main effects were coming from the inflammatory response and then the production of toxins," Dirk van der Klis said. "So, focus on products that improve intestinal health — focus on response of animal, make sure there is not an inflammatory response. Ensure there is not use overshoot."
The presence of mycotoxins and the quality of the water must also be considered, Barbarino said, as should maintaining a calm, consistent environment. Stressors such as relocation can affect an animal's digestion, as can other environmental factors such as ammonia and ventilation.
Maintaining the health of the herd through selective use of antibiotics to treat disease, as well as vaccination, is also critical to replacing antibiotic growth promoters, Barbarino said, and the importance of selective breeding should not be ignored.