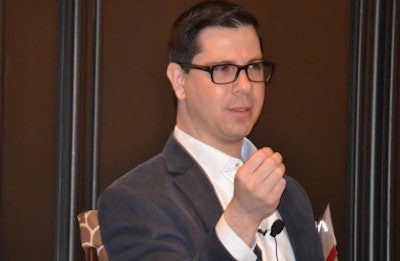 The American Veterinary Medical Association's (AVMA) Chief Economist Matthew J. Salois, PhD, presented to the New York Academy of Sciences on Sept. 28 on the implications of raising animals without antibiotics. The presentation, "Sustainability and Antimicrobial Use in Animal Agriculture," calls for nuanced and evidence-based antibiotic policies that consider a holistic view of antibiotics' impacts on animal welfare, the environment and economics.
In recent years, some companies and consumers have embraced raising animals without antibiotics. Today, nearly half of all broiler chickens are raised without antibiotics.
While many consumers have hailed these changes, Dr. Salois cautions that reduced use of antibiotics in farm animals can have negative implications for animal welfare and the overall sustainability of animal agriculture, if not accompanied by appropriate changes in management practices.
For instance, Dr. Salois notes the average mortality rate for broiler chickens raised without antibiotics can be 25 to 50 percent higher than for conventionally raised broiler chickens. Additionally, birds raised without antibiotics are much more likely to suffer from painful medical conditions – such as being more than three times as likely to experience ammonia burns in their eyes.
The higher incidences of disease and mortality for birds raised without antibiotics, coupled with slower growth, means that more than 680 million additional birds will need to be raised annually to meet poultry demand in the United States. This increase consumes significant environmental resources, including more than 1.9 billion additional gallons of water and more than 5.4 million additional tons of feed per year.
While broiler flocks raised without antibiotics have on average higher mortality rates than flocks for which access to antibiotics is allowed, the mortality gap has been closing over time. This can be attributed, in part, to poultry producers and veterinarians having learned a great deal over the last few years about how to better manage flocks that are raised without antibiotics, such as decreasing stocking density and increasing flock cycle downtime. Moreover, access to alternatives including vaccines, probiotics and enzymes has reduced antibiotic use in general. Nonetheless, the need for continued innovation and more antibiotic alternatives remains a priority.
These findings indicate the need for a thoughtful, data-driven approach to antibiotic use that considers a broad range of issues and seeks to balance animal welfare and environmental and economic outcomes. Veterinarians are committed to the responsible use of antibiotics, which includes judicious use of antibiotics when medically necessary in farm animals, in keeping with AVMA policy.