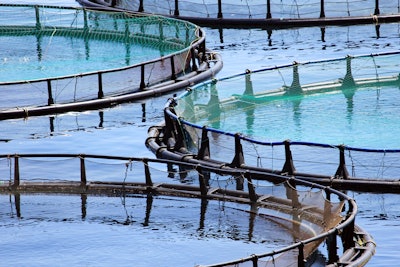 Vladislav Gajic | Dreamstime.com
Are two alternative proteins better than one? Yes, according to aquafeed startup Ittinsect – and it might be more cost effective.
Ittinsect founder and CEO Alessandro Romano came to aquaculture with a fresh perspective. Although he'd never worked in feed or aquaculture before, he saw that farmed fish had the potential to meet the world's growing need for protein, but at a high cost to the fisheries from which aquaculture derives fishmeal. So, he set out to "break the chain" that linked aquaculture to wild fisheries by developing an alternative to fish meal.
Ittinsect, of course, is far from the first startup to attempt this. But, to Romano, many of the alternatives already available seem to have the same set of problems: they're relatively expensive, dependent on polluting sources of energy like natural gas, and often difficult for fish to digest.
Instead of starting from scratch, the Ittinsect team tried a different approach. They took the best attributes of today's leading alternatives and combined them.
Insect meal forms the base of their product lines today. Ittinsect combines the meal with food byproducts in a bioreactor, where fermentation breaks down some of the antinutritional properties that make insects difficult to digest while upgrading the byproducts.
"The big issue for insects right now is that they are, as a raw material, expensive," Romano said. "So, what we do is we use part insect meal, and part other byproducts that are much less expensive, and make it nutritious with an inexpensive process. The biotic process adds a very small cost factor to each unit produced."
The cost for their protein ingredients comes in slightly higher than the price of fishmeal, Romano said. It can replace nearly all the fish meal in diets for many species, and they're looking to fully replace fishmeal with future iterations of their production, to which they plan to add some algae.
The company, which formally incorporated in at the end of 2021, has already introduced product lines for trout, sea bream, sturgeon and sea bass. Their next goal, Romano said, is the development of an ingredient for salmon. This will require the construction of their first production facility – not a full-scale commercial facility, but a dedicated pilot plant they aim to have operating by 2024.
Romano expects the price of insect meal will come down substantially by then, but he doesn't believe that will impact the value of Ittinsect's ingredients. The high digestibility of their proteins, a result of the fermentation process, should continue to give them an edge, he said. And with aquaculture production growing rapidly, he said, the market will need all the protein alternatives it can get.