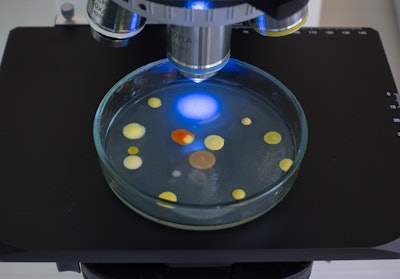 NikolayAsasis | BigStock.com
Move over, bacteria. A biotechnology company from Sweden thinks fungi deserve a slice of the single-cell protein pie.
Cirkulär AB, the biotechnology company, is trialing the use of fungi in single-cell protein production at a paper mill owned by Sylvamo in Nymölla, Sweden. The goal of what they are calling the "Tree-to-Feed" collaboration is to use a proprietary fungal fermentation process developed by Cirkulär AB to break down wood-based byproducts at the paper mill and produce a protein ingredient for aquafeed called Cirkulein, according to Jeanna Peebo, chief strategy officer at Cirkulär AB.
Cirkulär AB started with the vision of turning byproducts into high-value products that could be sold into a circular economy, Peebo said. While conducting some early-phase research, the company happened upon the rapidly growing demand for alternative proteins for animal feed, and especially for aquaculture. The company's fungi-based technology and their work with researchers who study fungal genetics allowed them to develop a process that produces a high-protein biomass with an amino acid profile that mirrors the complete amino acid content of fishmeal, Peebo said.
"Our multidisciplinary team of experts combines extensive experience that allows us to identify novel solutions and unlock new opportunities for a more sustainable future," Peebo said. "Moreover, we pride ourselves on being at the forefront of biotechnology advancements where we will leverage our cutting-edge techniques to optimize our products, via e.g., precision nutrition, to ensure that they not only meet but also exceed the requirements of our customers."
Beyond the amino acid content, Cirkulein contains biologically active compounds that increase healthy gut bacteria, reduce intestinal inflammation and boost the metabolism, Peebo said. And the company believes Cirkulein has a lower environmental footprint than other alternative ingredients with greater energy requirements.
"We are not only building a cutting-edge technology, but also contributing to a more efficient use of resources and a reduced environmental footprint while addressing the increasing demand for sustainable protein sources," Peebo said.
If the Nymölla project is successful at showing Cirkulein can be produced from wood byproducts at scale, Peebo said Cirkulär AB has plans to conduct feeding trials and to explore scaling up production for use in the aquaculture and pet food industries.
"Ultimately, Cirkulär aims to be at the forefront of the alternative protein revolution, supporting a more sustainable, resource-efficient, and resilient global food system, while contributing to the health and well-being of both people and our planet," Peebo said.