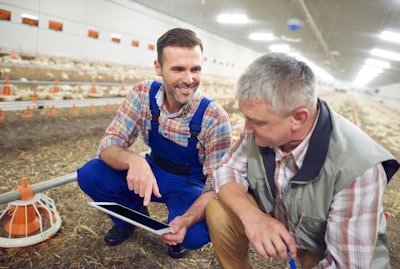 Anna Bizon | AdobeStock.com
The global poultry industry is adjusting to using fewer antibiotics, more rigorous animal welfare schemes and, in some cases, providing outdoor access for flocks while at the same time striving for continuous improvements in bird health, welfare and performance.
Join a discussion of the challenges and opportunities facing broiler and turkey producers, and the promising technologies being researched and developed to foster continuous improvement at the 2023 Poultry Tech Summit on November 6-8 at the Hilton Atlanta Airport in Atlanta, Georgia.
Registration for this event is now open.
The panelists include Andrew Bishop, DVM, Amick Farms, Vernon Felts, Ph.D., senior director of live production, Butterball and Enrique Montiel, DVM, Ph.D., DACPV, Anitox.
Dr. Andy Bishop is a broiler production veterinarian with Amick Farms, LLC. Andy completed his BSA in Animal Science, Doctor of Veterinary Medicine and Master of Avian Medicine at the University of Georgia. He currently oversees Amick's health programs in South Carolina, DelMarVa, and Mississippi.
Vernon Felts received his Ph.D. in animal/poultry science from Virginia Tech. He joined Butterball LLC in 1993 and served as corporate nutritionist until 2016. Today, he serves as senior director of live operations, responsible for Midwest live operations facilities, oversight of company-wide nutrition programs, live operations research and development, analytical laboratories and various live operations business strategies. He currently serves on the Board of Directors for the National Turkey Federation.
Enrique Montiel, DVM, Ph.D., DACPV, is the director of nutrition and live production for Anitox. He has been an industry veterinarian and has worked within the worldwide poultry and animal health sector for the past 25 years. He has served as director of global avian veterinary services for Merial, then as senior veterinarian for Boehringer Ingelheim Animal Health. Montiel holds an M.Sc. in avian pathology and immunology, and a Ph.D. in poultry science from the University of Georgia where he studied the influence of feeding program on immune responses in broiler breeders.
Attend the 2023 Poultry Tech Summit
Join an exclusive international gathering of industry-changing innovators, researchers, entrepreneurs, technology experts, investors and leading poultry producers at the 2023 edition of Poultry Tech Summit on November 6-8 at the Hilton Atlanta Airport in Atlanta, Georgia.
Attendees can expect the same groundbreaking innovation and insightful presentations that made the previous events well-attended with deep dialogue on new prospective solutions and next-generation technologies. Poultry Tech Summit focuses on the transition of innovative technologies into commercial applications to advance the poultry industry.