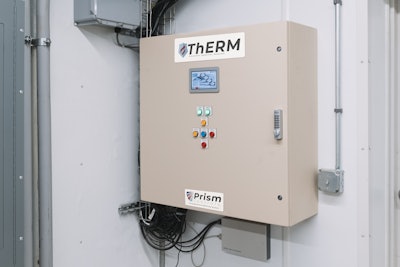 A smoke detection system currently undergoing validation at Center Fresh Egg Farm, operating under Versova Management, located in Iowa has proved its worth after detecting smoke produced by the Canadian wildfires.
After receiving the alarm from the system for the wildfire smoke, Dr. Craig Rowles, Versova General Manager of Cage-Free Operations, had confidence the system could detect a real poultry house fire.
The ThERM fire mitigation system was installed in the house approximately four months ago. After installation, Prism Controls and Versova worked together to validate the system using various methods outside of a real fire event, explained Rowles.
The ThERM system is designed to not only detect smoke in layer barns, but to override a barn's ventilation system when a smoke event is detected to prevent fueling a fire with oxygen. The system also allows a timeframe for employees to determine whether or not a threat exists before turning the ventilation back on, said Rowles.
One day before the incident, the Iowa Department of Natural Resources sent out a press release describing that an approaching cold front was pulling smoke from Canadian wildfires down to ground level.
"This smoke is expected to impact Iowa today and tomorrow. The air quality in Northwest Iowa will be impacted first this morning, with a band of heavy smoke working its way through the state from Northwest to Southeast," stated the May 18th weather release.
Are smoke detectors the future of fire prevention in poultry?
There has always been some doubt concerning whether or not the system will work due to the amount of dust in cage-free environments, explained Prism Controls Product Development Specialist Tim Gess.
"The level of smoke that was in the area was enough to see it, but not enough to smell it," said Gess. "That smoke was pulled in through the inlets and set the system off shortly after."
"We were amazed at the sensitivity of the system to be able to pick up that low level of smoke, and we were pleased to know that the system reacted in the way that we expected it to," added Rowles.
"This was exciting for us because it proved that very early smoke detection works in agriculture. Thankfully, it didn't take a poultry barn fire to set it off," said Prism Controls Director of Commercial Accounts Brandon Mulnix.
After more research and testing on the system, Versova Management hopes that insurance companies will consider this incident as an example of risk prevention when insuring poultry houses with the detector installed.
Attend the 2023 Poultry Tech Summit
Join an exclusive international gathering of industry-changing innovators, researchers, entrepreneurs, technology experts, investors and leading poultry producers at the 2023 edition of Poultry Tech Summit on November 6-8 at the Hilton Atlanta Airport in Atlanta, Georgia.
Attendees can expect the same groundbreaking innovation and insightful presentations that made the previous events well-attended with deep dialogue on new prospective solutions and next-generation technologies. Poultry Tech Summit focuses on the transition of innovative technologies into commercial applications to advance the poultry industry.
Registration for this event is now open. Early bird savings are available.