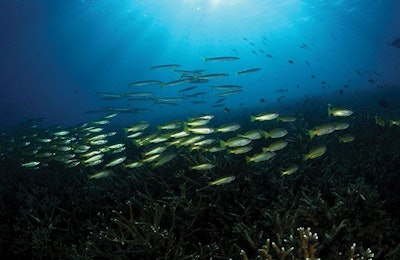 The Canadian company has raised more than US$8 million to expand AI applications in aquaculture
A Canadian startup believes artificial intelligence (AI) holds the key to keeping up with growing demand for seafood in spite of an aquaculture labor shortage.
ReelData AI is using cameras to observe fish feeding activity and determine when fish need to be fed in order to dispense aquafeed, according to company CEO and co-founder Matt Zimola. The goal, he said, is to feed fish as effectively as possible, never underfeeding or overfeeding them.
"With computer vision — camera systems — we have basically developed an algorithm that mimics the farmer," Zimola said. "We tell farmers if you are looking at what is happening and you can't understand whether the fish's appetite is increasing or decreasing, the computer can."
Zimola believes the camera system will fill a potential gap between growing global demand for seafood and the need for experienced labor.
"Right now, these facilities require people with extensive experience to operate them," he said, "but this sector could grow fast over the next few years, and to do that we need to make these systems operationally easy … [where] we can give anybody an iPad whether or not they are [experienced with technology]. That's the vision that we have."
The company raised more than US$8 million this year to scale its operations and expand its product lines, Zimola said. The company's software, which can be used with most automated feeder systems, is available in the U.S. and some European markets, but ReelData AI is looking to expand into other markets where finfish are grown in land-based systems, he said.
Existing products are tailored to salmon production and other finfish. The software doesn't have the ability to monitor smaller species like shrimp, but the company may expand in that direction in the future, Zimola said.
But the next step on the immediate horizon, Zimola said, is finding ways to harvest more data from the camera system. The company is working on systems that can essentially weigh the fish in order to evaluate growth rates, which would allow farmers to A/B test feed formulations. Long-term, Zimola said, the goal is to create a piece of software that can act as the "operating system" for land-based aquaculture production.