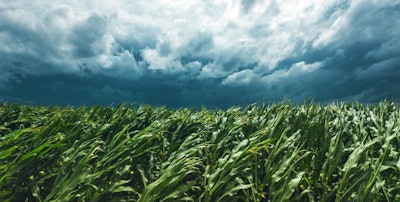 USDA projects a 4% increase in US corn acreage, but the weather may not cooperate.
U.S. farmers say they plan to grow more corn this year, potentially bringing a some relief to the shortages and high prices of recent years. But it's not clear whether they'll be able to execute on those plans this spring, experts say.
The U.S. expects to plant 92 million acres of corn this season, up 3.42 million acres from last year, according to the March 31 Prospective Plantings survey by the U.S. Department of Agriculture (USDA). Soybean acreage remained flat, according to the report, at 87.5 million acres.
The survey results suggest farmers plan to increase their corn production by taking acreage from crops other than soybeans — projected cotton acreage, for example, is down 18%, according to the USDA. But James Mintert, director of the Center for Commercial Agriculture at Purdue University, noted that the increased corn acreage is planned for states that have struggled to reach their acreage targets in recent years. And he's not the only market expert who has expressed skepticism of the USDA's rosy corn acreage figures.
"I believe the market is a little optimistic on these acres," Ankush Bhandari, vice president of economic research for Viterra U.S., told the U.S. Soybean Export Council on April 2. "To get these acres we need a normal snowmelt and a normal planting pace."
But many key states where farmers say they plan to expand their corn production have experienced record-setting snowfall this winter and now face an unusually late spring, Bhandari said. That raises the odds farmers will be prevented from following through with their plans to plant more corn.
"I'm not a weather forecaster … but it's not a lock that they will have the weather that will allow them to get these acres planted," Mintert said. "That's going to be the wild card."
Michael Langemeier, associate director of the Center for Commercial Agriculture at Purdue, also noted that even though soybean prices have fallen somewhat, his figures suggest that growing soybeans could still be slightly more profitable than corn for farmers in key Corn Belt states. There are factors to explain why farmers told the USDA they plan to plant more corn: The past two years saw corn yields and profits exceed expectations, and fertilizer prices have recently dropped. That could have spurred greater optimism for planting what is historically the largest crop in these states. But it's not clear, he said, whether farmers' mid-March plans will remain unchanged by the time seeds go in the ground.
"In the last eight years we have actually seen more soybeans [planted] than corn in Indiana — something that only happened twice before 2016," Langemeier said.
Langemeier and Bhandari said soybean demand remains strong, and seems likely to grow primarily on account of the increased use of soybeans to produce renewable biodiesel. Although there remains some question of just how large biodiesel production will get, the trend has already shifted U.S. planting patterns, Bhandari said. And Mintert noted that although the projections by USDA suggest U.S. farmers plan to plant what could be another record soybean crop, they're still struggling to keep pace with the growth in demand for beans.
"What is amazing to me is we're thinking about a record soybean crop, and we're still just barely filling the pipeline," Langemeier said. "And the reason I'm mentioning this is we could see a lot of volatility in the soybean market in the next few months."