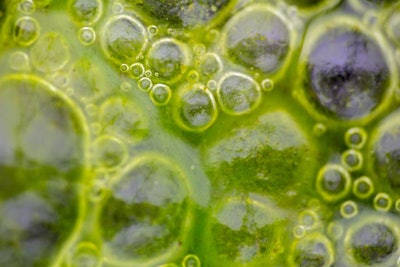 Novel ingredients such as insect meal, algae and single-cell proteins in aquafeed hit measurable levels in 2020.
The commercial use of novel aquafeed ingredients including insect meal, algae and single-cell proteins reached measurably significant levels for the first time in 2020, according to survey data by food research institute Nofima.
Although inclusion of these ingredients remains relatively small compared with more conventional options like fish oil and soybean meal, 2020 marked the first time these emerging ingredients merited the creation of their own category within the survey, which Nofima conducts periodically to track trends in aquafeed production. Norwegian salmon and trout producers who answered the survey reported using 8,000 tons of novel ingredients in 2020, according to Nofima senior researcher Turid Synnøve Aas. That total represents about 0.4% of the total feed volume recorded by the survey.
"Some of these ingredients have been used before, for instance single-cell proteins," Aas said, but they never made the survey results because they weren't used in large enough quantities for the survey to capture during the surveyed years.
But it's not yet clear, Aas said, whether the 2020 data will prove to be a blip on the radar, or the beginning of an industrywide trend. From what Nofima has gathered, the growing use of these ingredients remains tied to companies that are experimenting with potential alternatives to fish meal and soy, which have attracted criticism in recent years. It's also hard to determine what impact the market turbulence caused by COVID-19 and Russia's invasion of Ukraine has had on aquafeed trends since the collection of the data, Aas said.
Whether the use of novel ingredients continues to grow will likely hinge on their cost efficacy relative to other feed ingredients, she said.
"We have no documentation on whether it's economic for [fish producers] to use these ingredients," Aas said. The next survey, she said, will reveal "more answers, if there are more or less of these ingredients."
For her own part, Aas said she sees potential in the use of algae to replace or supplement fish oil supplies, assuming algae producers can bring the cost of their product down. Insects, she said, seemed somewhat more dubious. Insect production could be a good use of waste material, she said, but to replace any sizeable amount of soy with insect protein would require raising insects in massive quantities.
"We made a calculation that if you want to replace all the soy protein concentrate with insect meal, you will have to produce almost the same amount of insect larvae as salmon — about 1.5 million tons," Aas said. "So that would be very large."