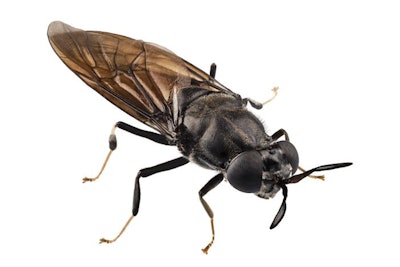 Public-private partnership will investigate the use of black soldier fly and its effects on sustainability, health and welfare of slow-growing broilers
A consortium of Dutch poultry chain players is joining forces in a public-private partnership regarding insects as a source of protein in poultry diets.
Protix, ForFarmers, PHW Group's Dutch entity Esbro, Venik and Wageningen Livestock Research will work closely together during the next two years. Their joint effort is to investigate how insect ingredients from the black soldier fly in poultry feed affect sustainability, health and welfare parameters of slow-growing broiler chickens.
By nature, insects are a favorable source of food for poultry. Feeding insects to poultry is an opportunity to transform low-value organic byproducts into high-quality feed ingredients, since the European Commission approved the use of insect meal in poultry and pig feed in September 2021. This opportunity could expand the range of feed raw materials for chicken producers, but further information is still needed for the entire poultry chain. The consortium is going to move diligently forward on a science-based approach to evaluate potentially value-adding elements of chicken diets containing insect ingredients from the black soldier fly (BSF).
The research project will be conducted in three phases, starting May 31, with a pilot to study effects of different inclusion levels of BSF larvae-derived ingredients in poultry feed. Based on the outcomes of this pilot, different broiler diets will be tested on large scale in chicken farms. In the third phase, BSF products in broiler diets in combination with other alternative regionally grown protein sources will be tested to study these effects.
The Netherlands is an international market leader with a strong, innovative and highly productive agrifood sector. In public private partnerships (PPP), businesses, knowledge institutions and government work together to find solutions for more sustainable feed materials. This new PPP supports the Dutch national knowledge and innovation agenda and the national protein strategy as well as the European Commission Farm to Fork strategy – promoting a circular agrifood system with the use of sustainable and local ingredients. The PPP aims to contribute to reducing the reliance of EU livestock farming on proteins from third countries while simultaneously advancing circular agriculture.
Marcus Keitzer, board member of PHW Group and responsible for alternative proteins said: "Continuous identification and science-based evaluation of innovative alternatives to conventional poultry feed ingredients are important elements of our sustainability strategy. Therefore, we aim to investigate the specific impact of the inclusion of insect-derived feed components in poultry diets in slow-growing broiler chicken from various angles. This PPP enables us to do this jointly with some of the most renowned institutions in the insect and agricultural sector in Europe."
"Today's unprecedented times painfully reveal the urgency to restore the balance with nature. Sustainable ingredients play an important role in this," said Kees Aarts, founder and CEO of Protix. "At Protix, we were born from sustainability, and we are proud to join forces with these pioneers and work together in an integrated value chain approach."
"The growing global demand for animal protein calls for innovative and sustainable feed and farm solutions. Insect protein could have an important role as an alternative and sustainable protein source in animal feed. This partnership is a great example of the ambition and responsibility of ForFarmers to develop our knowledge and innovate For the Future of Farming," said Joost Sparla, marketing director poultry at ForFarmers.