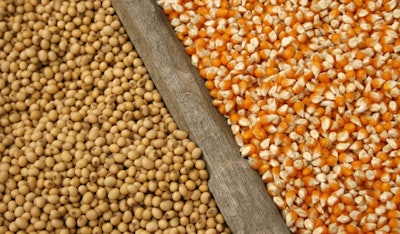 US farmers may plan to plant an unprecedented soybean crop, but that hasn't cut prices
While not as dramatic as steep hikes in corn prices, predictions of an unprecedented U.S. soybean crop have not reversed the upward price trend for either commodity.
Cash bids for corn hit US$7.73 per bushel in the wake of news from the U.S. Department of Agriculture (USDA) that surveyed farmers intend to shift 4 million acres of corn to soybeans and other crops, according to Jim Mintert, director of the Center for Commercial Agriculture at Purdue University.
However, the 55-cent escalation in corn prices over the past month wasn't entirely unexpected. In addition to the decrease in corn acreage, Ukrainian corn exports are expected to decline 4,500 million metric tons on account of interference from the invasion by Russia, according to the USDA's monthly World Markets and Trade report — and the USDA's current numbers for Ukraine may be overly optimistic, Mintert said during a webinar on April 12.
"I know it's more than a guess but it's, at this point, very speculative in terms of how corn exports turn out," he said. "If I had to guess right now, my expectation would be that exports (from Ukraine) would end up being smaller than 23 million metric tons."
Ukraine accounts for 10% of global wheat trade, 15% of corn trade and, together with Russia, 80% of global sunflower oil exports, according to a special report on the impact of the conflict on global food prices by the USDA.
"One reason we're seeing so much volatility in the market is because of the difficulty in getting a handle on how much (corn) is really available to the marketplace," given the size of Ukraine's agricultural production, and the difficulty in getting accurate information out of the region, Mintert said.
But while Ukraine may be the word of the hour, he said, the real surprise in this month's market reports was the shift from corn to soybean production in the U.S. — and the market's minimal response to this news.
U.S. farmers surveyed by the USDA this month indicated they planned to seed a record 91 million acres with soybeans this year. Fertilizer shortages seem to be the driving force for the switch, according to Michael Langemeier, associated director of Purdue's Center for Commercial Agriculture. But the fact that soybeans remain a profitable alternative hasn't hurt.
Soybean prices rose 10 cents over the past month to US$16.70 per bushel in spite of the planting estimates, Mintert noted.
Even with a record soybean crop in the works, global supplies of soybeans are expected to remain tight and prices high. On top of this, many parts of the U.S. have experienced wet spring weather that is not conducive to planting corn, so Langemeier said he didn't anticipate U.S. farmers would make any significant changes to their acreage plans this year.
"I think a half million to a million acres would be a large increase" in corn acreage, he said. "I don't think we're looking at a two- to three-million-acre shift."