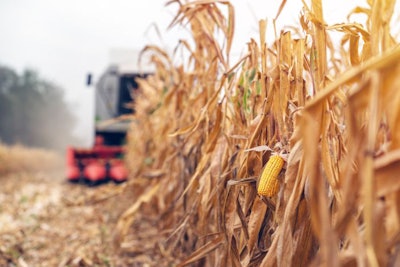 USDA issues surprise revision to corn and soy supply estimates, but prices remain elevated
U.S. supply of corn and soybeans is actually larger than reported for the past year, the U.S. Department of Agriculture (USDA) announced on October 12. But analysts don't expect prices to fall too far as a result of the unexpected windfall.
The October World Markets and Trade reports took industry analysts by surprise this week when they included a rare late-season revision to last year's soybean yields, boosting 2020 averages by .8 bushels per acre, and increasing the projections for this year's harvest by .9 bushels per acre. The increases marked the largest changes made by USDA in the month of October in the past eight years, and the second largest in the past 14, Randall Mittelstaedt, head of market insights at futures trading firm R.J. O'Brien & Associates LLC.
The increases also put the U.S. on track to harvest a record-breaking soybean crop this fall, according to Jim Sutter, CEO of the U.S. Soybean Export Council.
"Personally I'm pleased to see the upward revision in soybean yield," Sutter said during an October 12 webinar. "I know that it's been a difficult situation over the last 6-12 months as we've talked about shortages, and many people have been forced to tighten their belts and look at different ways of doing things. I think we will all be better off if we have slightly more supply."
Corn production estimates also saw small, but less significant, increases in this week's release.
"The supply situation has changed on both corn and soybeans," James Mintert, director of the Center for Commercial Agriculture at Purdue University, said during an October 13 broadcast from Purdue. "Stocks are not as tight as we thought they were."
Although commodity prices have responded to the news, with soybean futures dropping 15 cents on the morning of October 13, overall prices remain high largely due to increased costs of production, according to Michael Langemeier, associate director of the Center for Commercial Agriculture. Langemeier noted that ammonia, urea, phosphate and potash fertilizers have all doubled or more than doubled in price since last October, driving a 15% increase in the price farmers will need to fetch this fall to break even on their costs this summer.
"Five-dollar corn sounds awful good," he said, "but when you see breakeven increases of 15% in one year, you have to factor that in along with the $5 corn."
Increased costs put the breakeven point for corn around $4.90 per bushel currently, Langemeier said, and for soybeans at about $12—both precipitously close to the $5.30 and $12.28 futures prices that were trading just before the Purdue broadcast on Wednesday morning began.