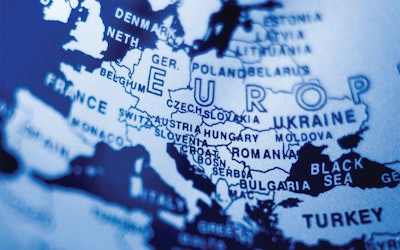 While feed production and agricultural production are not expected to change dramatically over the next 10 years, latest forecasts in the EU highlight some significant trends for individual sectors.
As a result of forecast changes in livestock and poultry production in the 27 countries of the European Union (EU) over the coming decade, overall demand for animal feeds in the region is expected to decline by around 0.5%. This is just one of the key drivers identified in the "European Union Agricultural Outlook 2020-2030," published last week by the European Commission (EC).
While this change in the overall total feed demand is marginal over the 10-year period, significant transitions are forecast. This applies to the individual livestock sectors, as well as in terms of feed composition.
Europe's only meat sector expected to expand is poultry meat, together with egg production. As a result, demand for poultry feed is likely to rise. In contrast, a forecast 4.6% decline in pork production over the study period will lead to lower pig feed volumes.
For the dairy sector, ongoing restructuring will continue to 2030. So while the recent falls in the populations of suckler cows and dairy herds are expected to continue, rising individual animal productivity may mitigate any sharp reduction in demand for feed. Furthermore, the EC expects member states with lower productivity currently to catch up with more productive systems.
Evolution of feed composition
According to the EC Outlook report, consumer trends in the region are supporting growth of specialist production methods. These include organic and pasture-based systems, which are fast gaining in popularity — albeit from a low base. Latest analysis of feed ingredient use in the EU highlighted that forages already contribute around 45% of the region's protein requirements for livestock feeds.
Decline in the pig population will likely be partly balanced by higher poultry numbers. However, EC forecasts that the overall impact will be a reduction in the region's requirements for high-protein feeds (containing more than 30% protein). Exacerbating this trend are the reduced availability of rapeseed, and a shift away from soybean products arising from environmental concerns.
While usage of high-protein ingredients is forecast to fall, demand is expected to strengthen for ingredients with a protein content of 15-30%. This medium-protein category includes protein crops, whose usage is forecast to rise by as much as 19% over the outlook period, partially replacing oilseed meals.
Feed price trends
According to the EC, feed prices will decline for the early years of the outlook period.
This forecast is based on the expectation of plentiful supplies of feed ingredients worldwide, and low fuel prices that will keep a lid on transportation costs. Subsequently, economies are expected to have recovered from the adverse effects of the coronavirus (COVID-19) pandemic. As a result, feed prices are likely to recover in nominal terms.
Forecasts for EU grain production to 2030
Over the coming decade, total agricultural land is forecast to decline by as much as 500,000 hectares to 161.2 million hectares (398 million acres), according to the Outlook report. As arable cultivation area contracts, more land will be dedicated to pasture and forage production.
Despite the reduction in acreage, the region's crop production is not expected to fall. Instead, adoption of new technology, including digitization, is likely to improve yields. Other possible consequences may be improvements in working conditions and environmental standards.
At around 278 million metric tons, EU grain production is forecast to change little over the outlook period. Larger areas of sunflower and soybean cultivation are expected to bring increased production of European oilseeds. For protein crops — peas, fava beans and other pulses — product innovations are forecast to drive consumption to rise by as much as 30% over the next decade. As a result, EC expects increases in cultivated area and yields for protein crops in the coming years.