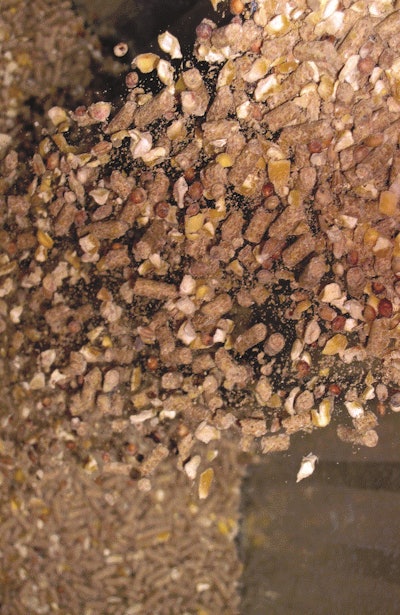 CoBank report says surging feed costs will test the sector's recovery from COVID-19
The U.S. animal protein sector is expected to see a 12% increase in feed costs in 2021, according to a new report from CoBank.
This is due to higher corn and soybean meal prices, which are expected to see the highest year-over-year inflation since 2011, as well as increased demand from China.
"With corn futures above $4 per bushel and soybean meal futures around $350 per ton, cattle feeders, hog producers and chicken producers face higher prices for feed than they have in many years," the report said. "These higher feed costs come at a challenging time, as meat and poultry industry margins have been pressured by weak prices in 2020 due to COVID-19."
As China rebuilds its hog herd and recovers from African swine fever (ASF) losses, its demand for grain will grow.
"We expect China to shift its imports in the coming years from animal protein to feed as it works to regain its self-sufficiency in animal protein lost due to ASF," CoBank said.
China's shortage of animal protein supply as a result of ASF has moved it to the position of the largest global importer of beef and pork. But China's animal protein imports are expected to decline in 2021 while its imports of animal feed could surpass all-time highs in the 2020-21 crop year.
"This slow but meaningful shift in China's ag imports has massive implications not only for animal protein and grain markets, but for agriculture globally," the report said. "Prior to the outbreak of ASF, China accounted for nearly 30% of global animal protein consumption and in 2020 will account for a similar level of global animal protein trade. As China's imports of animal protein fall and their imports of feed rise, we see U.S. animal protein sectors facing higher feed costs and lower livestock prices resulting in a more difficult profit margin environment."
Feed cost inflation
In 2021, U.S. hog producers are expected to see the largest feed cost inflation, at 14%, followed by cattle feeders at 13% and chicken producers at 11%.
"The impact of feed costs varies by species for a number of reasons, such as life cycle, feed ration and components of other feed costs," the report said.
But while producers will feel pressure from feed costs, they may get some relief in the form of higher protein prices.
"Fortunately, there are positive signs that producers and processors may benefit from higher beef, pork and poultry prices to cushion higher feed costs," CoBank said.
View our continuing coverage of the novel coronavirus (COVID-19) pandemic.