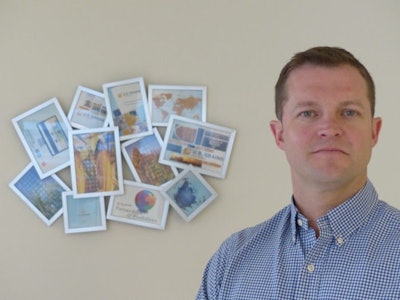 With trade wars mounting around the world, Ryan LeGrand, incoming CEO at the U.S. Grains Council, believes it's time for agricultural producers around the world to bring free trade negotiations a little grassroots flair.
LeGrand has dedicated his career to international trade, spending the last nine years in Mexico as a regional director for the U.S. Grains Council. When he assumes his position as CEO next month, he'll take the helm of an organization dedicated to free trade amid growing protectionist sentiments, both at home and abroad. It's not just the much-discussed trade war with China, he said — countries such as Columbia and Peru have threatened to impose countervailing duties on American-grown corn.
"I can tell you that it's not as friendly a trade environment as it was previously," he said. But he remains convinced of the importance of free trade, and he is optimistic that agriculture will overcome brewing geopolitical strife when producers "go to the hill and fight for free trade."
Years of living abroad and traveling across Latin American and Asia have left LeGrand with "a different perspective on things," he said. "At the U.S. Grains Council, we really try to promote bilateral trade, and seeing the ideal from another culture's perspective really opens your eyes and makes you want to work toward a win-win for both countries."
Free trade, in LeGrand's mind, means freeing each country to focus on doing what it does best. The U.S., he said, is great at growing wheat, corn and beans. Mexico, on the other hand, specializes in fruits and vegetables. Specialization allows both countries to benefit from greater efficiencies, he said.
Despite the growing popularity of protectionism in the U.S., foreign market development has never been more important to American agriculture, LeGrand said. With 97 percent of the world's population living outside the U.S., he said, that's where future growth is going to come from.
And while the political tide may seem insurmountable, LeGrand believes he knows how to overcome it—by encouraging the producers themselves to contact their local elected officials and advocate for free trade on their own behalf.
"What we have to do is work with local industry, wherever we're working around the world," he said. "In our case, livestock sectors are tremendously benefitted by reliable grain systems in the U.S. If there is some activity going on where it looks like they may be trying to put up some walls against some of our imports, we … make sure that industry is relaying the message to their government."