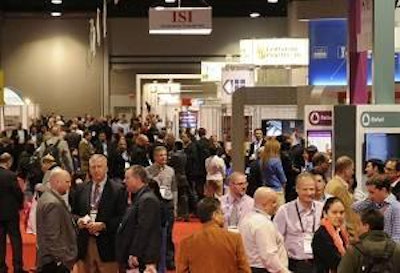 The 2014 International Production & Processing Expo (IPPE), which took place January 28-30 in Atlanta, had more than 24,000 poultry, meat and feed industry registrants from all over the world. In addition, the show had 1,148 exhibitors with more than 410,000 net square feet of exhibit space. IPPE's initial projections were at 28,000 registrants, but inclement weather impacted a significant portion of drive-in traffic.
Final numbers will be released after the registration database has been audited for duplications. Sponsored by U.S. Poultry & Egg Association (USPOULTRY), American Feed Industry Association (AFIA) and the American Meat Institute (AMI), IPPE is the world's largest annual poultry, meat and feed industry event of its kind.
"It speaks to the strength of integrating these three shows together that attendance held up so well in spite of the inclement weather," the three trade associations said in a joint statement.
The main attraction was the large exhibit floor. Exhibitors displayed the latest innovations in equipment, supplies and services utilized by industry firms in the production and processing of poultry, eggs, feed products and meat. A large number of companies use the annual event to highlight their new products. All phases of the poultry, feed and meat industry were represented, from live production and processing to further processing and packaging.
The education slate complemented the exhibits by keeping industry management informed on current issues and events. This year's educational line-up featured 16 programs, ranging from a conference on ground poultry pathogen reduction to antibiotic use in the meat and poultry industry to a program on how to export feed and feed ingredients to the United States.
The College Student Career Program attracted approximately 500 students from 30 universities throughout the United States, while the new International Student Career Program brought in 24 students from 14 universities. The graduating students interviewed for jobs and internships with 93 human resource representatives from 28 industry and allied firms. They were also able to visit the exhibit floor to see the most current technology used in the industry.
Other featured events included the International Poultry Scientific Forum, Pet Food Conference, VIV International Pork Production Summit, Tech XChange program, Meat Me in @LANTA activities and publisher-sponsored programs, all of which made the 2014 IPPE the premiere annual protein and feed event of the western hemisphere.