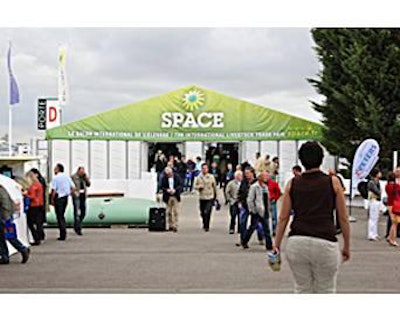 The 2013 edition of SPACE, a livestock show held annually in Rennes, France, marked the first international trade show I have attended since I began covering the feed industry four years ago. Prior to SPACE, I was lucky enough to have spent a few days touring the Brittany region and learning about the nuances of French agriculture and animal feed production. The insight gained during the tour was helpful in understanding the history and politics of animal production in the region, which was especially useful in guiding conversation at the event.
SPACE provided an invaluable opportunity for me to connect with the industry, providing interactions I may not have had under normal circumstances. I think it's fair to say other attendees and exhibitors left with a similar experience.
During my interview for an article, "Safety, regulations top concerns in EU specialty ingredient industry," the EU Association of Specialty Feed Ingredients and their Mixtures (FEFANA) secretary general, Didier Jans, summarized the importance of these opportunities best: "There is a huge diversification of the expectation and contingencies of animal production sector. International meeting are the best way for companies to keep ahead of what's going on and provides an opportunity for ideas to be shared. At the end of the day, such events assist in bringing the global animal feed industry to level where it needs to be."
And therein lays the beauty of international events. By providing a forum that fosters engagement and knowledge sharing, the greater industry can benefit from the exchange of ideas and solutions.
I, for one, will rely heavily on the connections I made at SPACE – as well as the ones I hope to make at similar events in the year ahead. However, since my exposure to these connections is somewhat limited, I'd like to ask you, Feed International's readers, to feel free to contact me directly to any time you feel you have information to share about the trends impacting feed production and animal agriculture in your country. Because, despite our locations and backgrounds, we can all learn from each other.