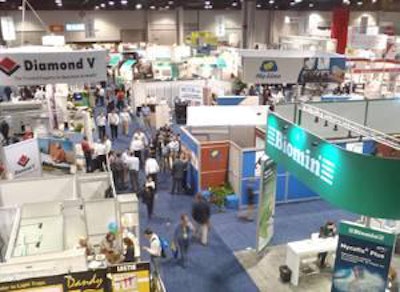 The 2012 International Poultry Expo and International Feed Expo drew over 20,500 poultry and feed industry leaders from all over the world. In addition, the show had 895 exhibitors as compared to 900 at the 2011 show. Sponsored by the U.S. Poultry & Egg Association and the American Feed Industry Association, the annual expo is the world's largest poultry and feed industry event of its kind.
"We are very pleased with the number of exhibitors and attendees on the exhibit floor for IPE/IFE Week," said 2012 USPOULTRY chairman Mark Waller. "We have had a great turnout this year, and the energy and excitement on the floor has been evident."
The central attraction was the large exhibit floor, said organizers. Exhibitors presented the latest innovations in equipment, supplies and services utilized by industry firms in the production and processing of poultry, eggs and feed products. All phases of the poultry and feed industry were represented, from live production and processing to further processing and packaging.
A variety of education sessions complemented the exhibits, and the 2012 educational line-up featured five new programs. The Executive Conference on the Future of the American Poultry and Egg Industry and the Pre-Harvest Food Safety Conference in particular both drew large crowds.
The College Student Career Program attracted 325 students from 23 universities throughout the U.S. The graduating students interviewed for jobs and internships with 25 industry and allied firms. They were also able to visit the exhibit floor to see the most current technology used in today's poultry industry.
New product and service launches, exhibitor-sponsored programs, organization meetings, the International Poultry Scientific Forum, Featherfest activities, publisher-sponsored programs, the Pet Food Conference, educational sessions on a variety of industry-specific topics and once-a-year networking opportunities made the International Poultry Expo and International Feed Expo a success.